One of my first Ender 3 (review) upgrades, was the jump to a BigTreeTech (v1.2) board, for one particular reason: stepper motor whine. It's fine if you have a dedicated room to run your 6h prints, but as both printers are sat next to me, I wanted to keep the noise level down to a minimum. BigTreeTech SKR Mini E3 V3.0 offers silent performance as default and brings more upgrading options than one could ever imagine.
Making your 3D printer awesome and upgradable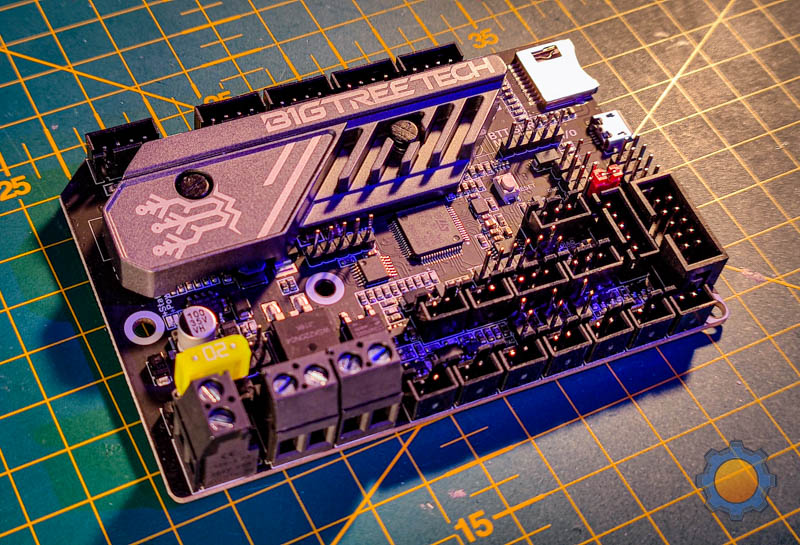 It's fair to say, that 3D printing is entering the same phase, as the PC was about 10 years ago. Online communities are filled with DIY mods, upgrades and improvements that you can often 3D print to make your printer even better. We care not only about the consistency and the quality of our prints but about how machines look!
Just in the same way gamers care about their kit and the upgradability of their hardware. Future-proofing through hardware upgrades is what many of us look at when selecting components for our budget 3D printers. Nothing reflects this trend better than the latest motherboard for Ender 3 printers: BigTreeTech SKR Mini E3 V3.0. It brings bold looks and serious upgrade capabilities.
Sporting a gamer's aesthetic, BigTreeTech SKR Mini E3 V3.0 looks like something you'd find inside a gaming rig rather than a 3D printer. Don't be fooled by the product picture, the board still takes a fraction of the space that regular PC boards take and it's a direct replacement for Ender 3 and Ender 3 v2 motherboards.
The beefy heating covering TMCM2209 silent stepper drivers is just one of the eye candy. A dedicated Neopixel header brings the magic of the RGBs to, no doubt, speed up your printing. While one can laugh about "everything RGB", 3D printing is a passion, and people care about their tools as much as the effect of their work.
As BigTreeTech SKR Mini E3 V3.0 isn't just about the eye candy, it brings the features that you could find on the TOP10 most popular 3D printing upgrades. The motherboard supports:
Dual Z steppers (for linear rail and belt upgrades)
Native BL Touch support
TFT touchscreen display support
3 PWM-controlled fans
filement runout support
Automatic shutdown (UPS support)
power-off resume
Sensorless homing
NeoPixel support (up to 30 RGB LEDs via DCDC5V module)
onboard EPROM (that works)
The list actually goes on, which brings more advanced features like a dedicated GPIO header with SPI communication, and USB power cut-off – which is great for enabling the board for firmware testing directly from the computer or preventing Octoprint from keeping the board powered on.
One of the biggest limitations of this series is support for single extruder/hotend printers. If you are trying to change your printer into a dual printhead setup, you best look elsewhere – like this BIGTREETECH Octopus Pro V1.0 with support for 8 stepper motors and 4 hotends.
BigTreeTech SKR Mini E3 V3.0 comes with a form factor compatible with Ender 3 series Ender 5 and CR-10. Swapping the board is pretty simple, but bear in mind that if you have upgrades installed, you may need to re-compile the firmware again to fit your needs. I have a guide to help you with that.
Should you buy it?
The situation has changed a bit since I got my original Ender 3. While these are still available online, often at much-discounted prices, Ender 3 v2 took the lead and offers some of the features that BIGTREETECH SKR MINI E3 V3.0 comes with by standard, including silent steppers.
It means that the decision to purchase a new board (unless you have a specific upgrade path in mind) is not as simple. Having said that, I have both Ender 3 printers, I can offer some constructive purchasing advice.
Original Ender 3 owners – YES!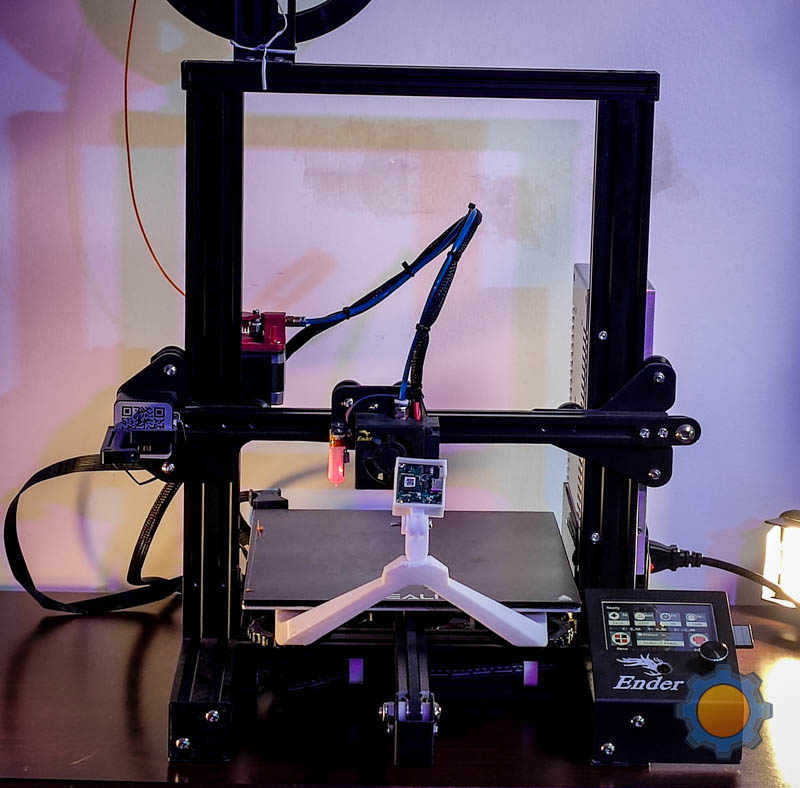 If you just acquired the original Ender 3 or it's been on your shelf forever, you should consider treating your board to a fancy new BigTreeTech SKR Mini E3 V3.0. First of all, it will make your 3D printing experience much quieter which is alone an upgrade worth having. It will also enable a very flexible upgrade path to your Ender 3 printer adding features present in more modern designs.
As the original Ender 3 can be purchased for as little as £130 on Banggood (during sale times), it leaves you enough spare change in your wallet to get the latest motherboards from BigTreeTech and still end up with a smaller bill than purchasing a brand new Ender 3 v2.
Getting a new board won't make your prints any better, but it will offer a much quieter printing environment and enables support for upgrades like touch screen, filament runout, or easy BLTOUCH installation.
Ender 3 v2 owners: MAYBE?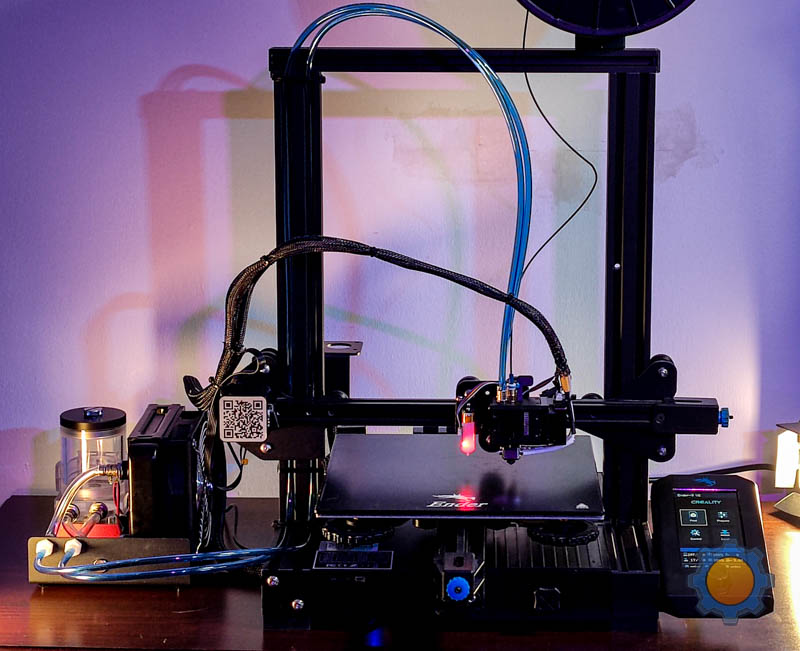 I can't blame anyone with an Ender 3 v2 (review) sticking with their default motherboard, but if you are planning some cool upgrades, paying $49.99 USD for BigTreeTech SKR Mini E3 V3.0 might be the best upgrade you could get.
It opens up opportunities to add a belt-driven Z-axis with dual motors, add various LED displays and control the speed of 3 fans for ideal cooling profiles for each situation. If you are into modding (and that's a hobby on its own) then BigTreeTech SKR Mini E3 V3.0 makes perfect sense.
Is it quieter in operation than Ender 3 v2's 4.2.2 board? Possible, but not in the way you'd notice immediately. While single-axis movement on both printers is silent, BigTreeTech SKR Mini E3 V3.0 offers better control over cooling fans and owners may benefit from a bit less noisy setup.
Unfortunately, the BigTreeTech SKR Mini E3 V3.0 isn't compatible (by default) with Ender's 3 v2 display, so you will either have to spend more on BTT TFT 3.5″ touch display (recommended) or make a custom ribbon cable to enable the screen. I used the board in my silent 3D printing project, which turned out to be a huge success.
Buy it, if you know that your upgrades will take you beyond the Creality's 4.2.2 – otherwise, your money would be better spent on a Raspberry Pi with Octoprint or a new extruder.
Getting started with BigTreeTech SKR Mini E3 V3.0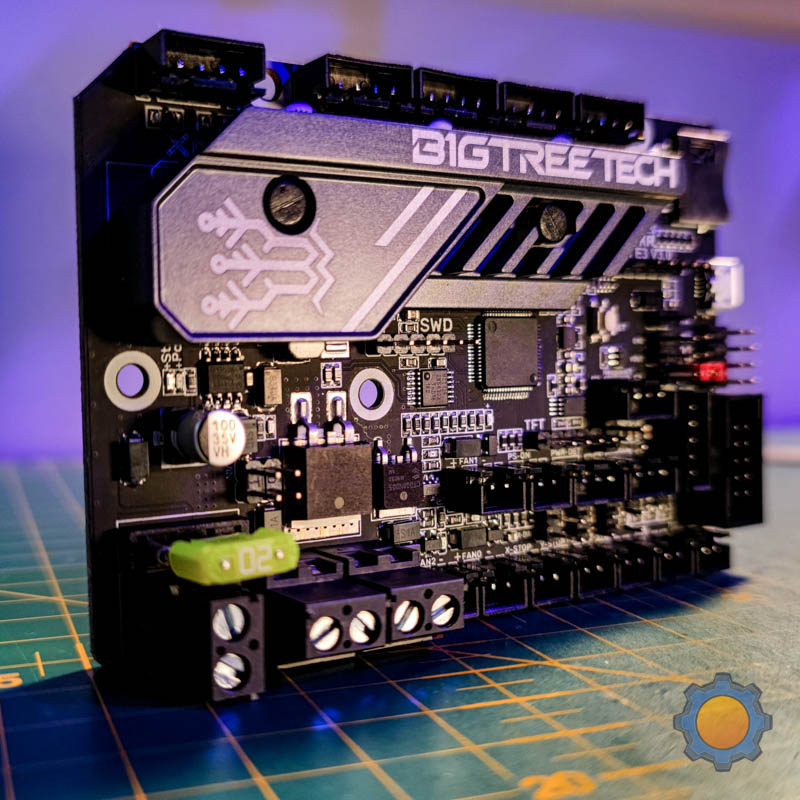 Don't be afraid, the process of upgrading is relatively straightforward. Most of the time, you will be reading the designations on the board itself, and plugging the corresponding cables into sockets. The only thing to bear in mind – is the polarity of the wires that connect the screw-in terminals. BigTreeTech SKR Mini E3 is compatible with 12V & 24V power supplies and the voltage connected to the board will determine the voltage available on the DC pins.
If this is not your last upgrade, do yourself a fav and invest in a JST connector kit (with a crimper) that comes in handy, if your hotend fan has been previously connected to a screw-in terminal.
A couple of tips to get started:
| | | | |
| --- | --- | --- | --- |
| Component | Observe polarity | Polarity doesn't matter | Notes |
| DC power connector | ✅ | | |
| X,Y,Z limit switches | | ✅ | |
| Hotend and bed thermal probes | | ✅ | |
| Fans | ✅ | | will spin in an opposite direction |
| Heated bed, Heated hotend | | ✅ | Unless your part manual specifies otherwise |
| Stepper motors | ✅ | | |
| BLTouch | ✅ | | |
| PS-ON,FIL-DET, POWER DET, | ✅ | | |
Power, hotbed and hotends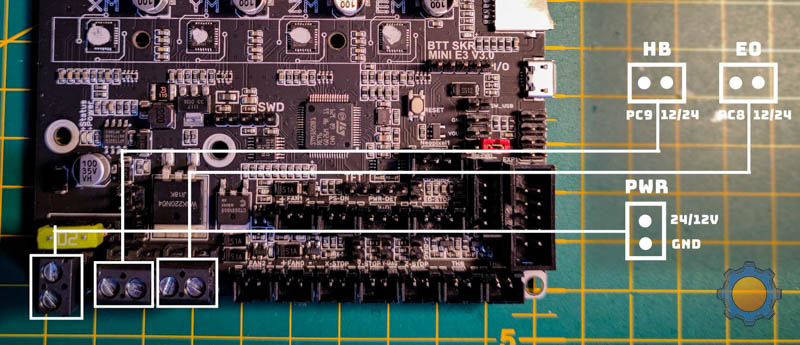 It goes without saying, observe polarity or damage your equipment. Tripple check the polarity of your 12/24 power supply when connecting the board and remember if you use a 12V power supply, your voltage is present on reference pins for hotend, bed, fans, and VIN. If you use a 12V PSU to power your board, you will have to use 12V compatible parts.
HB (hotbed) and E0 (hotend) are tolerant to the polarity changes unless your part's manual states otherwise.
Thermal probes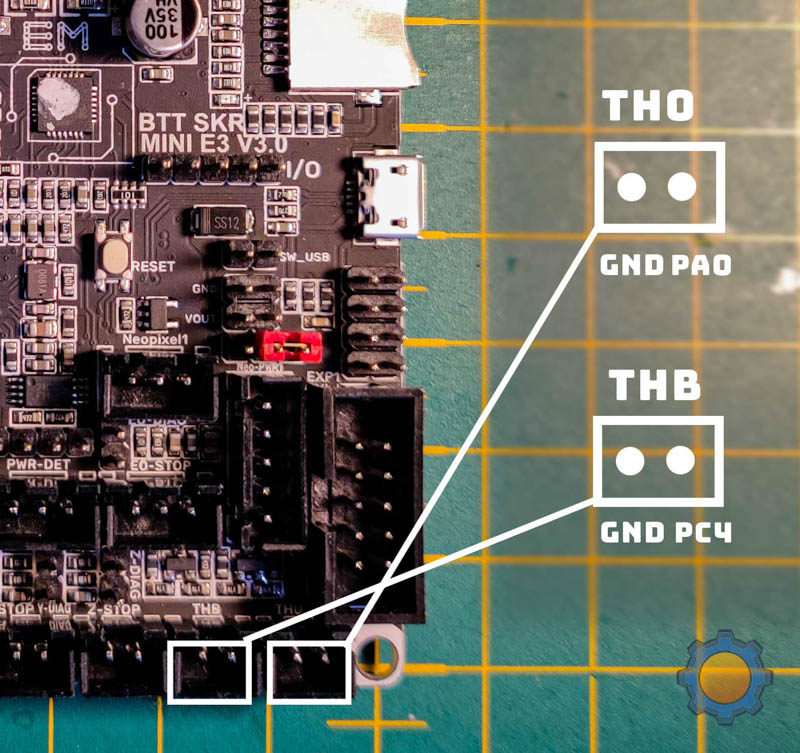 As thermal probes are just resistors, they don't care about polarity. Plus most of them come terminated with a JST connector so you can't get things wrong as long as you use THB for the bed thermistor and TH0 for the hotend thermistor. Depending on the probe, it may need an extension cable to reach your board and leave plenty of slack.
If you are changing thermistor, which is common with an upgrade to all-metal hotend, you will have to calibrate and re-tune PID in Marlin. I recently upgraded my hotend – so I have a nice set of instructions for you. Just remember, apart from Marlin changes, you will need a compatible hotend, thermal cartridge capable of these temps and high-temperature thermistor.
Steppers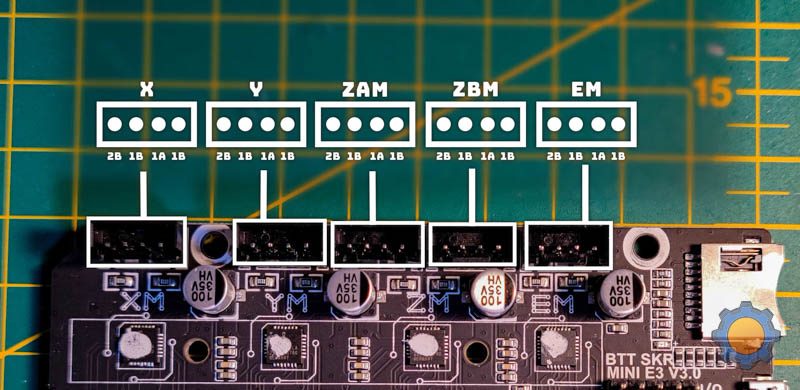 The big and fancy heatsink obscures the PCB labels for the individual axis. You may be confused at first about why you have 5 connectors for the 3 axes and the extruder stepper. BigTreeTech SKR Mini E3 V3.0 comes with a dual Z-axis option (ZAM ZBM) which you can take advantage of if you want to add linear slides and a belt-driven, dual stepper Z-axis upgrade.
If you are going with a traditional setup, use ZAM to connect your Z-axis stepper. All steppers use JXT connectors, so other than mixing up the axis, there is little room for error.
Octoprint/Klipper lovers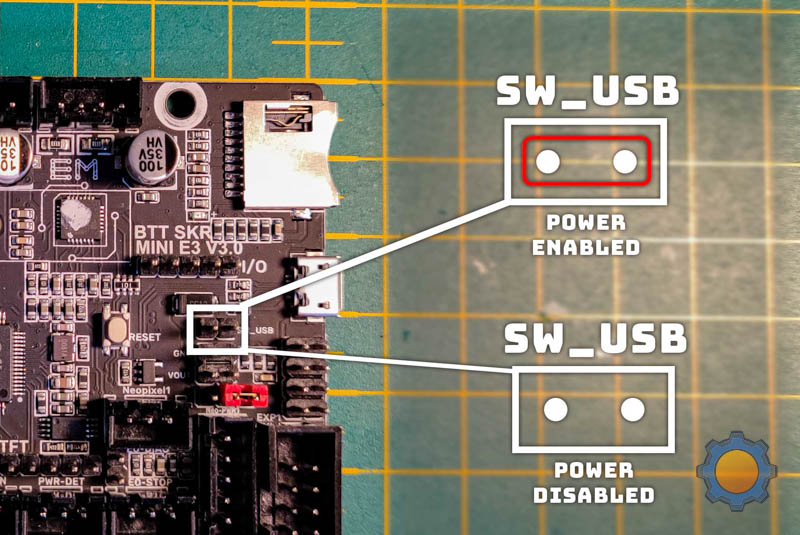 SW_USB jumper allows you to enable/disable USB port power lines. When the jumper isn't present, the board will receive no power via USB. If you want to power your board to tinker over USB, add the jumper to power up your board.
This is especially handy if you are running Octoprint or Klipper. I don't have to tell you how annoying is to have the board powered on because of the USB connection. To use Octoprint/Kliper, you only need the data lines enabled.
Z-Probe/BLTOUCH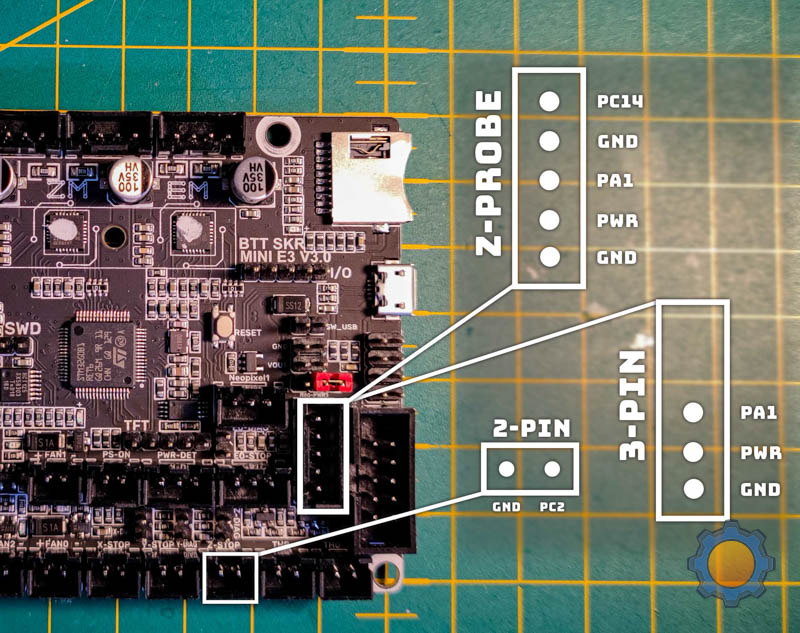 It's one of the best upgrades for beginners. I covered the process of enabling the probe in Marlin firmware in detail, so check out this article. On BigTreeTech SKR Mini E3 V3.0 you can add both versions of the BLTOUCH (5-pin and 3+2-pin) using the schematics on the picture.
Bear in mind, that some of these probes (check manual) are 3.3V and some are 5V tolerant. You can define the voltage in the Marlin configuration. In my 3+2 version of the BLTOUCH the wires are colour coded: (blue: GND, red: PWR, yellow: PA1). Since I already have a JST crimp kit, I simply re-wired the connector from a 3-pin to a 5 pin JST in the correct orientation so I never make the mistake of connecting it another way around.
Z-stops and sensorless homing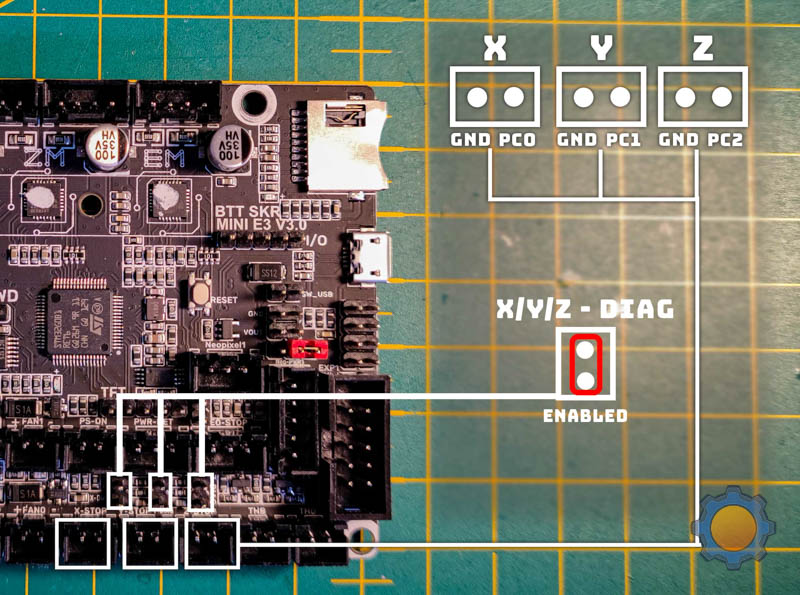 In addition to pretty straightforward sensor homing, which requires you to pay attention to your cable labelling and observe the PCB prints to figure out the correct installation, BigTreeTech SKR Mini E3 V3.0 offers sensorless homing.
Sensorless homing uses TMC22009 stall detection to define the home position. It's a quick and slightly dirty technique, but there are some use cases that may mandate that. Some of us would take the slight decrease in positional accuracy (it won't impact your print, but its initial location) over routing the extra set of wires (4 strands to be precise). I definitely encourage precise homing for Z-axis.
If you are just getting started, leave it be, but if you want to try sensorless homing, remove the limit switches, disconnect the sensor cables and add a jumper across X -DIAG for each axis you wish to enable sensorless homing for. What's interesting, the sensorless jumper is also available for extruders (E0-DIAG).
TFT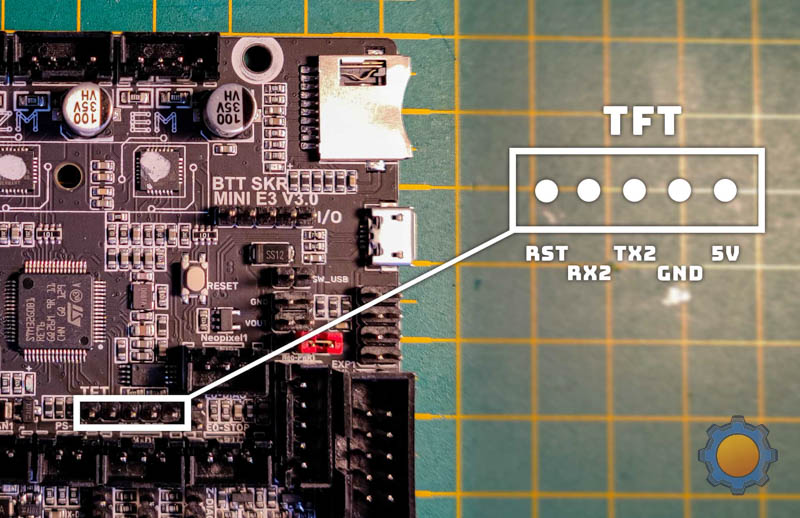 If you already use Octoprint, I can understand why you won't care as much about a touch-enabled display. On my original Ender 3, one of the first upgrades was the BTT TFT 3.5″ V3.0 display – to speed up pretty much everything. The screen that the printer comes with is hard to work with and the situation isn't much better with Ender 3 v2.
If you want a highly customisable touchscreen, you have to connect it with the TFT socket (for touch display mode). You can use these screens in non-touch mode (why would you do this?) and connect these to the familiar 8-pin connector (EXP1) or have both connected at the same time.
Fans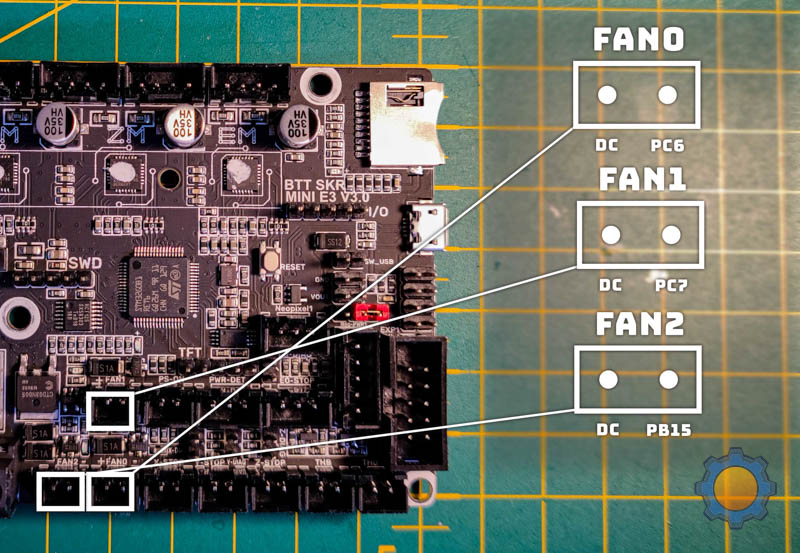 You have 3 PWM-controlled cooling fans for your disposal: FAN0, FAN1, and FAN2. By default, these are assigned by the firmware:
| | | |
| --- | --- | --- |
| FAN | PIN | Default Marlin config |
| FAN0 | PC6 | Cooling part fan |
| FAN1 | PC7 | Extruder fan / controlled by Marlin |
| FAN2 | PB15 | Enclosure fan / controlled by Marlin |
Connect these as above to get the stock functionality. If you want to adjust the automatic settings of the fan, you can do so in the Marlin configuration:
Neopixel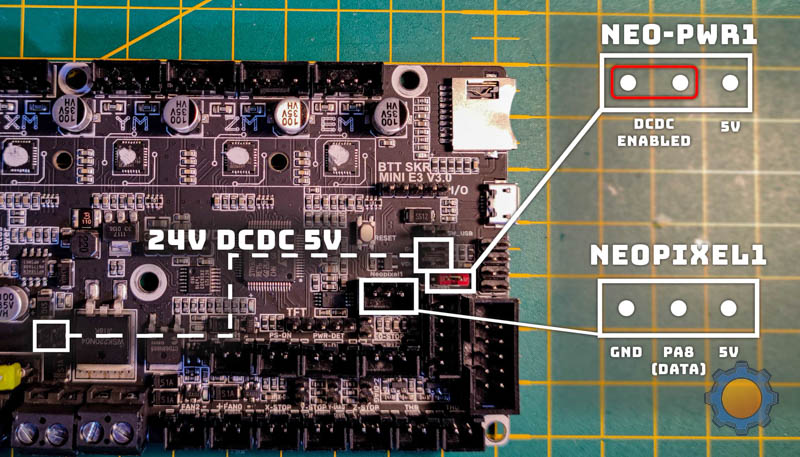 The header (5V) is already available on the board, but the 5V rail doesn't have enough juice to drive a proper strip. You have two options:
purchase 24V DCDC 5V bridge for about $4
power the strip separately
The bridge will fuse the DCin (in my case 24V) and convert that to a 5V power supply able to light up 30 LEDs. Alternatively, you can use another 5V power supply and fuse the GND pins from the SKR board and power supply. Set NeoPWR1 jumper to the right if you are using a DC bridge or applying 5V directly to the power pins.
RGB isn't enabled by the stock firmware, so you will need to make your own changes in Marlin.
Filament runout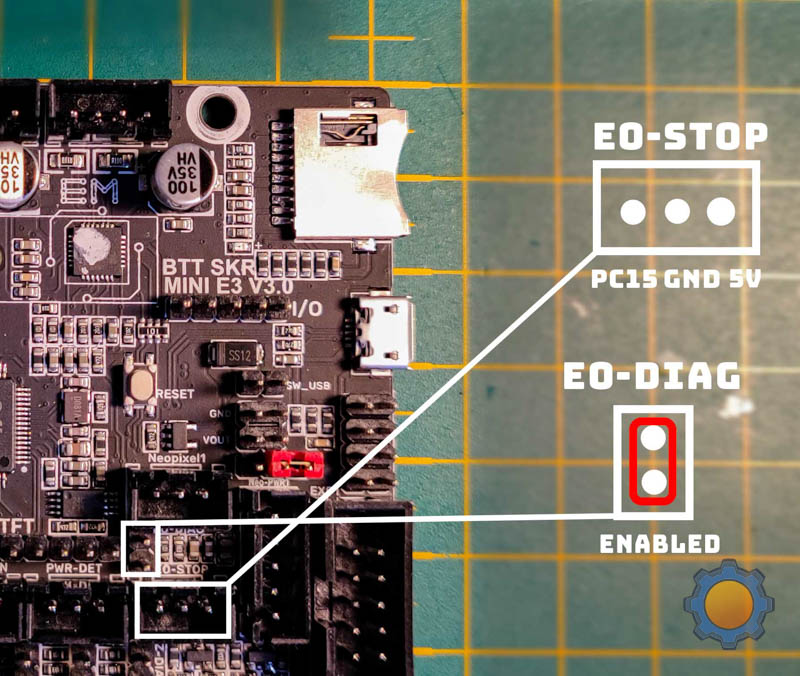 One of the fun things to do is to add a filament runout sensor. Whether you want to make one yourself (like me) or get a consumer one – that's down to you – they both works in the same manner and detect when the filament is finished or broken.
Instead of breaking your print, the printer stops, retracts the filament and helps you with the filament change so you can continue where you left off. It works pretty well as long as you don't let the print cool down too much.
If you add a filament sensor, you will need to compile Marlin again with the settings appropriate for your sensor. Please remember that some filament sensors may operate in Normally Open (NO) and others with Normally Closed (NC) states. Marlin lets you define the default behaviour.
Power cutoff detection & UPS support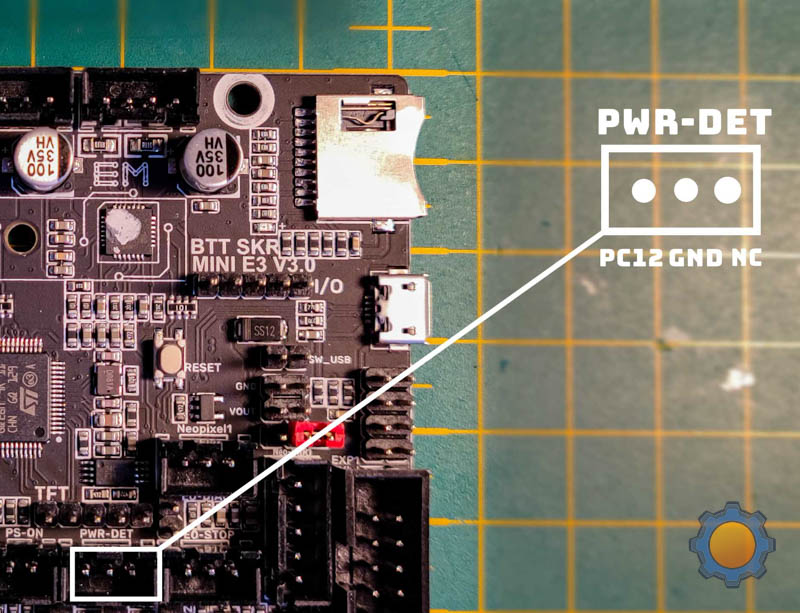 I'm lucky to live in the UK where power disruptions are rare. Despite my Ender 3 v2 coming with a resume on power loss function, I never got to test it. BigTreeTech SKR Mini E3 V3.0 brings support for that as well.
Thanks to the relay module and the motherboard UPS, you can monitor the power input and shut down the printer safely to prevent the damage and resume the printing later. Note that provided UPS module, won't let you continue printing, but it has enough juice to trigger the safe shutdown & buffer very brief power interruptions.
Other interfaces
If you are really into modding, and feeling comfortable with Marlin, BigTreeTech SKR Mini E3 V3.0 has GPIO pins that you can take advantage of. These utilise SPI interfaces to connect to other hardware accessories.
I/O (PD0, PD2, PD3, PD4, PD5)
SWD (3,3V, SWDIO, GNC, SWCLK, RST)
SPI1 (5V, GND, NSS, CLK, MOSI, MISO, 3.3V, GND)
Since I don't have the slightest clue how else you could use it, I will leave you to do your own research.
Flashing
I had some issues flashing a new firmware at first. The procedure that worked well for me was as follows:
Format microSD to FAT32 512byte (allocation unit size)
copy firmware file names as firmware.bin
put the card into the printer and turn it on
The flash will complete in about 10 seconds after showing you a blue screen. Note that if you are like me, and use a TFT Touch Display, your screen will boot as normal, but show that the printer isn't connected.
Resetting the board via the RESET button on the motherboard and waiting a minute, while the card with the firmware was inside, solved it for me.
Other upgrades
It's not the only upgrade that my printers are currently running. It's worth looking at the other products from BIQU like:
Final thoughts
It's a great little board for any Ender3 owner and Ender 3 v2 owners with big upgrade plans. I will use this board in my upcoming water-cooled 3D printer build and then examine if I could use it to make a completely silent 3D printer. If you like what you see so far, then head over to the BIQU store and treat yourself to a couple of nice upgrades, starting up with the BigTreeTech SKR Mini E3 V3.0. Got questions? Let me know in this Reddit thread.
🆓📈💵 – See the transparency note for details.