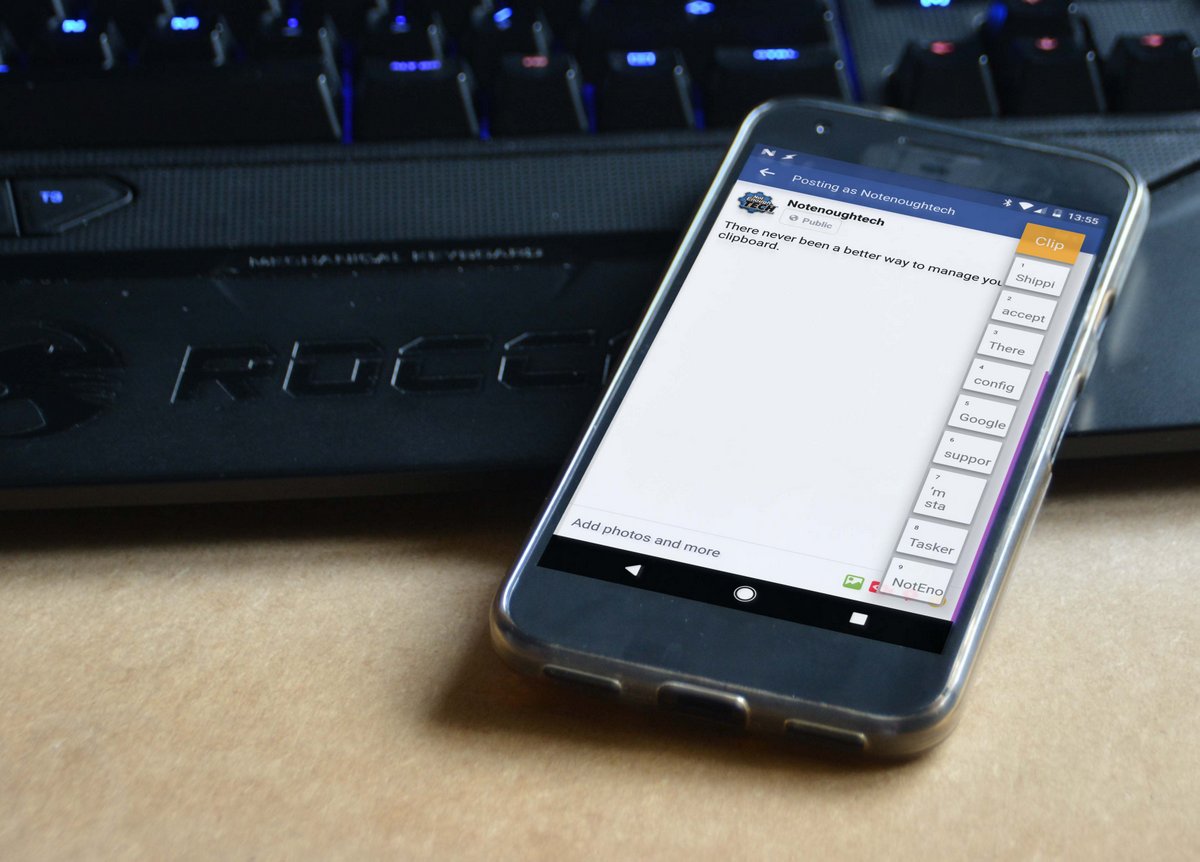 If you want to know how the clipboard manager works, go and check my previous showcase. It will show you the video and general information about the Tasker Project – Clipboard Manager. As usual, we are going to go through each part of the project and I will explain how it works. Let's start.
Tasker Project – Clipboard Manager
For this project, I'm using AutoTools WebScreens action so make sure you have the plugin installed.  Anything else is just stock Tasker. Access to the clipboard manager is driven by the apps. I don't need this when I'm watching YouTube or playing a game, therefore, there is a profile that enables the swipe functionality.
PROFILE – Apps with Clipboard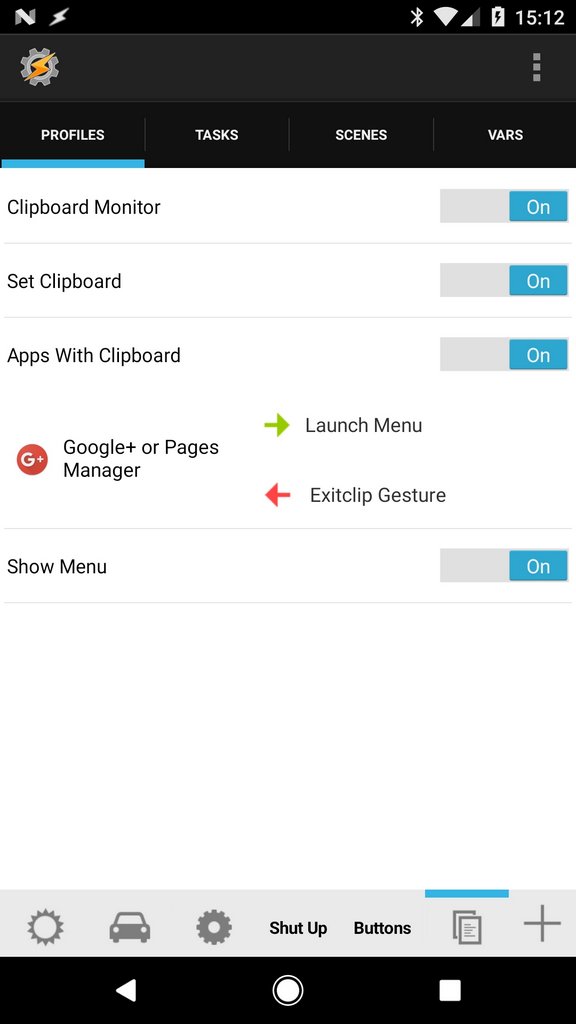 In this example, I'm using Google+ and Pages Manager to enable the WebScreens swipe.

Select the applications you want to enable in the context, then create a Task called Launch Menu. This task will enable the WebScreen swipe in the Tasker Project – Clipboard manager.
TASK – Launch Menu
In the AutoTools WebScreen option import a Screen preset (swipe) and remove all commands but 'left' in the commands section of the setup page.
Set up Windows settings to your preference. I have the Gravity set to Bottom Right, Width is 10 and Height are 'fill'.
TASK – Exit Clip Gesture
We need to disable the gesture when it's not needed. Add an exit task and create another WebScreens action. This time use the Display Mode to set 'close' action. This will terminate the WebScreen and swipe recognition.
PROFILE – Show Menu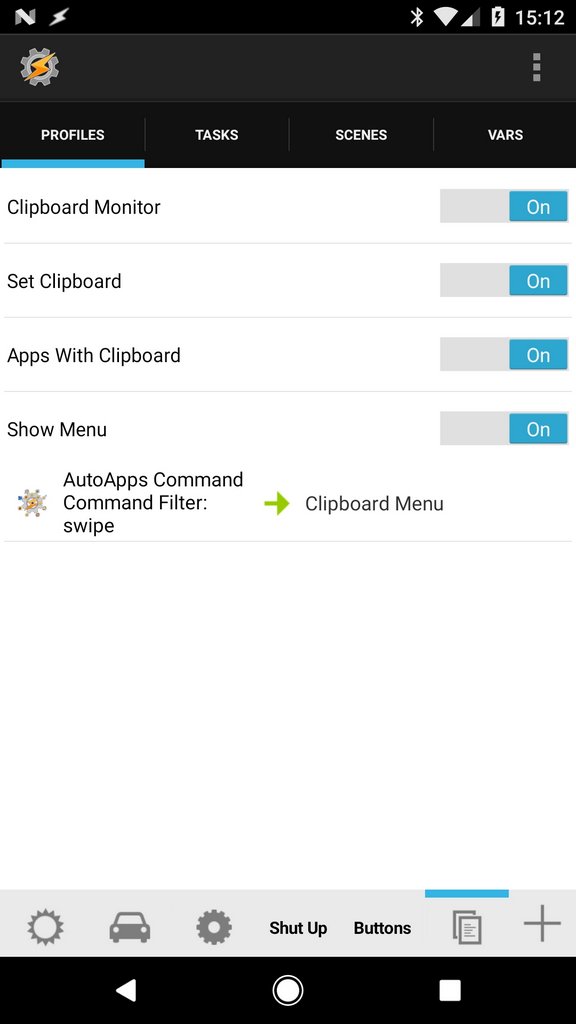 By default swiping right will issue an AutoTools Command swipe=:=right. When this happens, I want my clipboard manager to open. Create the AutoApps context with 'swipe' as a filter. When the swipe is done, a nice menu will appear with all the clips we need.
TASK – Clipboard Menu
The layout has been 'borrowed' from Joao's tutorial. I liked how the side launcher looked and there was no point of reinventing the wheel again. Obviously, the variables used in that WebScreen will be different but the layout is pretty much the same.
Add an AutoTools Web Screen action and select the Card List preset, Under Window Settings set
Width to 100
Height to fill
Gravity to Bottom Right
Under Command Options enable both Close On Command and Wait For Command, Under Cards set
Card Titles to %ClipPosition() (will contain numbers from 1-9)
Card Subtexts to %ClipAbrev() (contains short snippet)
Card Commands to %ClipPosition() (used to identify the press)
Commands prefix to clipboard
Max Card Width and Min Card Width to 90%
Max Image Height to 75
Title Text Size to 5
Feel free to modify the look of the notification. Bear in mind that opening the WebScreen without the next step won't give you any previews.
TASK – array numbers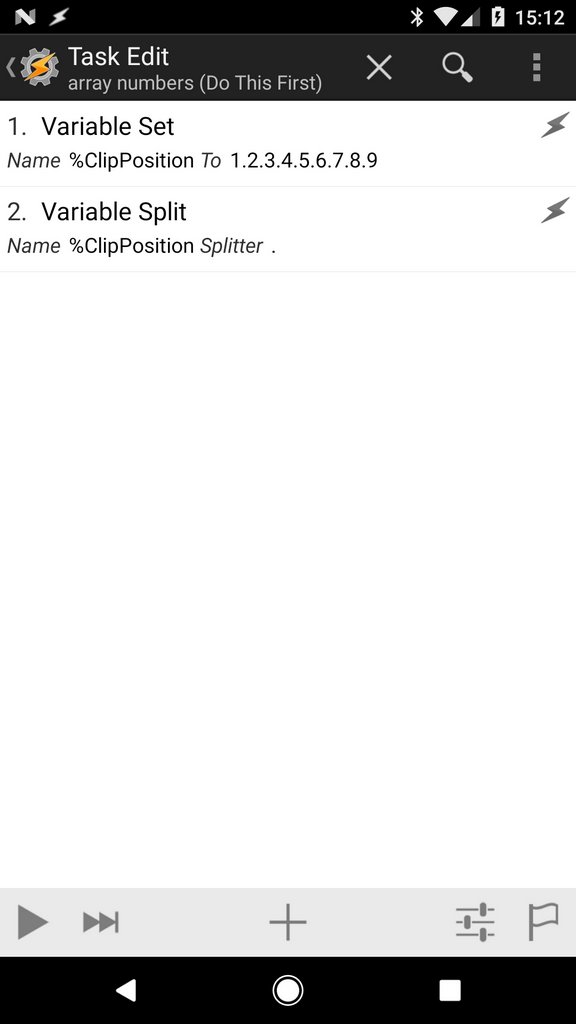 We need an array that will contain the numbers from 1-9. These will be used to identify our clipboard entries and will be stored in %ClipPosition() array.
Create this task then generate the array. This will create the global array.
PROFILE – Clipboard Monitor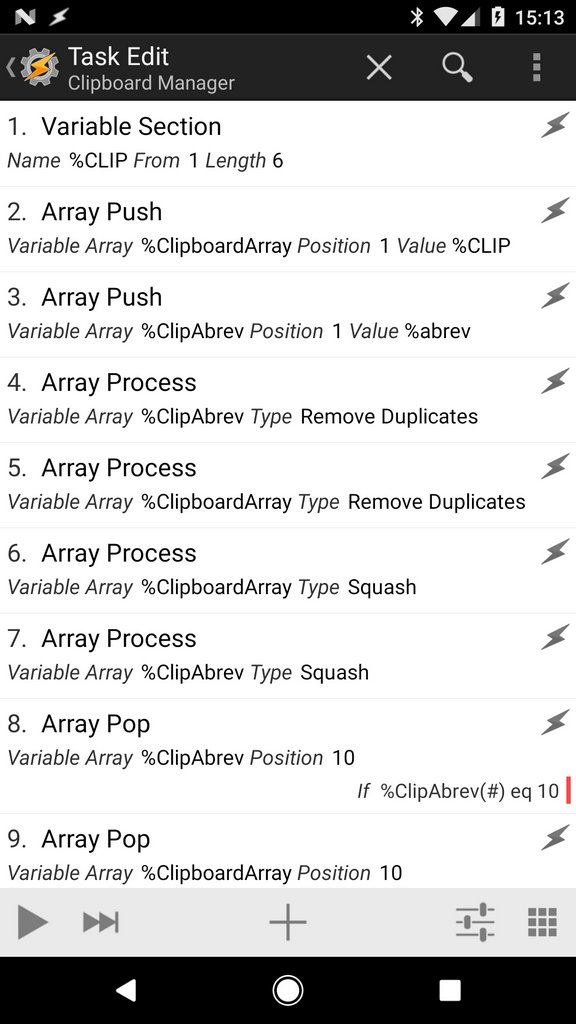 This profile will monitor changes in the %CLIP system variable that contains the current clipboard. Use Event trigger – variable set and set it to %CLIP. When a new clipboard has been set, Tasker will detect the changes.
;
TASK – Clipboard Manager
Our clipboard content is stored in the %ClipboardArray() – each time a new clipboard is saved an Array Push (A2) action moves it to the 1st position of the array. Because I don't want an entire text to be visible on the side menu, I created another array %ClipAbrev() (A3) that will store first X letters of the clipboard. To shorten the clipboard use (A1) Variable Selection and limit numbers of characters to ie 6 (make sure that Adapt to Fit is checked) store that value in the local %abrev variable which is used to populate the (A3) Array Push action.
Now that we have the clipboard collection ready we have to clean up the mess. The array will collect all the clipboards. This means that when we pick a clipboard from our side menu, it will collect the new value and assign it as a duplicate to the menu. Therefore each time we save a clipboard – I want to remove duplicate entries (A4,A5) and remove empty spaces (A6,A7). Array process actions are performed on both %Clipboard Array() and %ClipAbrev.
Lastly, I want my menu to contain 9 entries only. You can have more, but I find that the 9 menus fit great on my screen without scrolling. To do this – use Array Pop (A8,A9) and remove the 10th position. Do this ONLY if the array contains 10 elements. Otherwise, the last element is removed. We achieve this by checking if number of elements %ClipboardArray(#) = 10.
PROFILE – Set Clipboard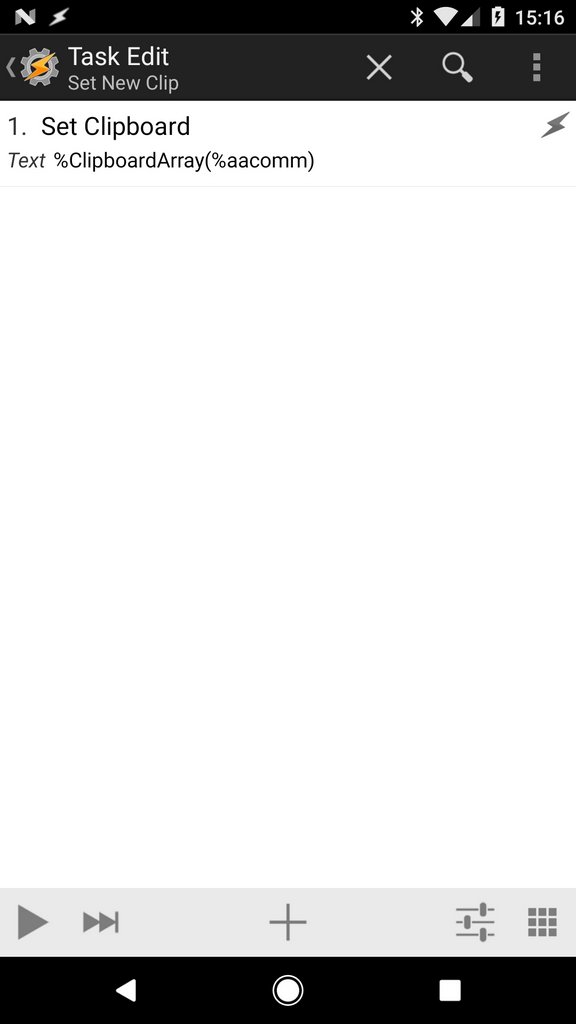 We are nearly done. This is a very simple profile. We are using AutoApps command clipboard to check if the command has been received. The command will look like this: clipboard=:=1 where the number stands for the button pressed on our side menu.

TASK – Set New Clip
The task is very simple as well. Set clipboard to the value of the %ClipboardArray() we want to choose the element specified by the %aacomm part of the received command. So set clipboard as %ClipboardArray(%aacomm). And you are done. The Tasker Project – Clipboard Manager is completed.
Conclusion
What I like most about the Tasker Project – Clipboard Manager is that at no point it obscures your screen. I find the bubbles annoying. There is a Tasker project file for you to download and use. Consider supporting my website, follow me on social media. It matters to us creators a lot.

Project Download
Download project files here. Bear in mind that Patreon supporters have early access to project files and videos.