A new internet outlet is out there and it's footing the bill for this review. Hekka reached out to me to make their name known to my audience and offered Ulefone Power Armour 14 for me to review and entice you into a quick little browse. So give them a go. Received in just under a week, the phone had to be stashed somewhere in the EU warehouse to reach the UK that quick. Ever since Brexit, I'm mindful of new places to spend my money, as options on Banggood and AliExpress often list the UK as the country to which they don't bother shipping products.
Use code mat10 to get extra $10 off on orders over $29.99 at Hekka
It's huge!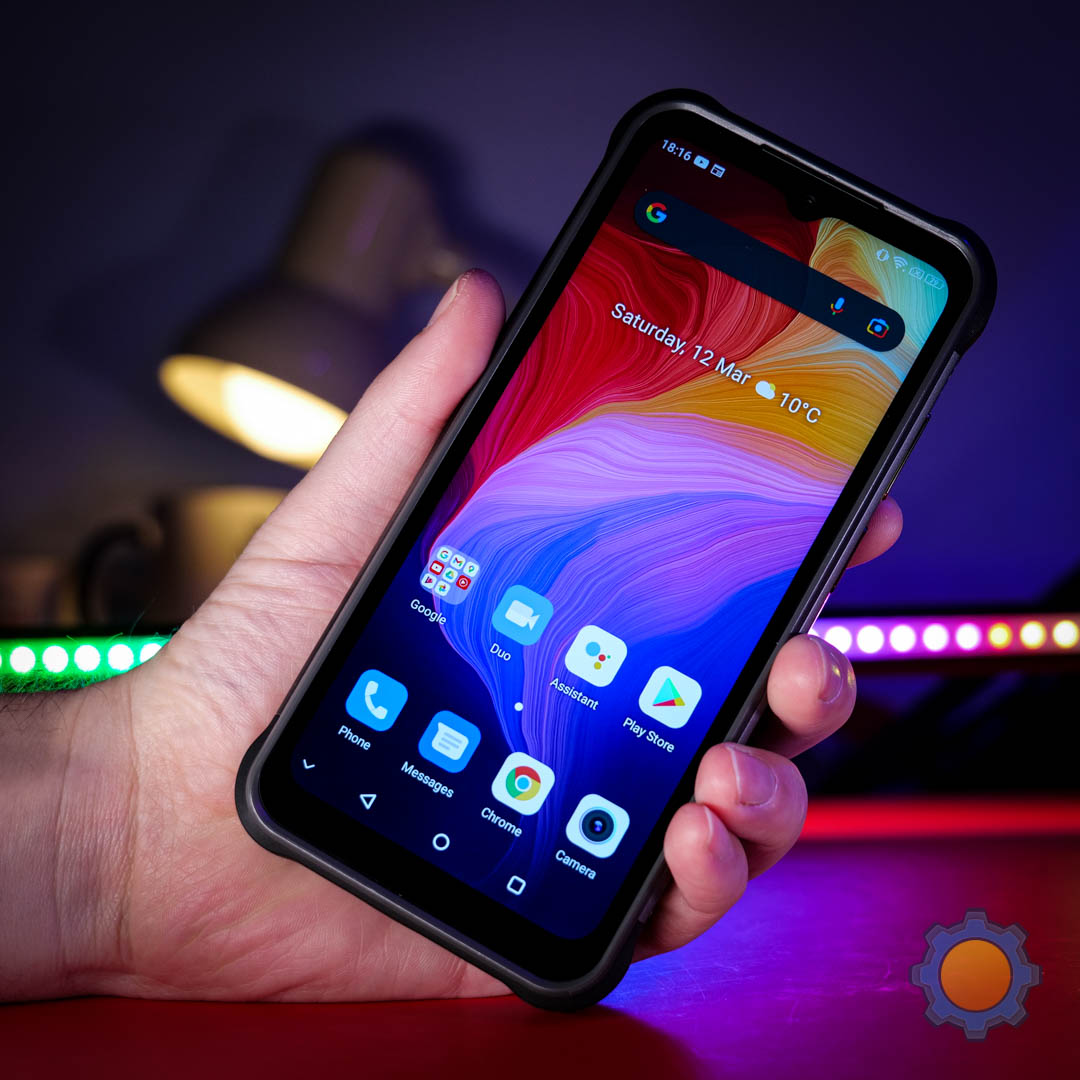 As the Hekka delivered the phone on time, it's time to see if Ulefone Power Armour 14 will replace the Dogee S86 I had been using for the past few months as a 2nd phone. The name of the phone hits the nail on the head. It's big, bulky and has some weight to it. In fact, the phone has a bigger screen than my daily driver Xiaomi Mi 11.
Let's face it, if you are looking at something that is named Power Armour 14, you are not interested in slim profiles, and sleek corners. You'll accept the heavy-duty form factor, in exchange for ruggedness, excellent battery life and reasonable specs at a reasonable price. UleFone Power Armour 14 is perfect for building sites, mountain trips and whatever other activities you are into, that make you shiver at the thought of your regular phone slipping out of your hands or a pocket.
Features
For a phone that comes with a £110ish price tag, UleFone Power Armour 14, doesn't skimp on features. On paper, it looks really impressive and it's hard to believe you get all that with a budget price. Of course, this isn't a flagship phone and some sacrifices were made, the question is how will they affect the usability and the day to day performance.
Instead of going over the raw stats, which can be easily looked up online, I will focus on the actual feel and the shortcomings of the phone as it would give you a better understanding of what you are getting yourself into.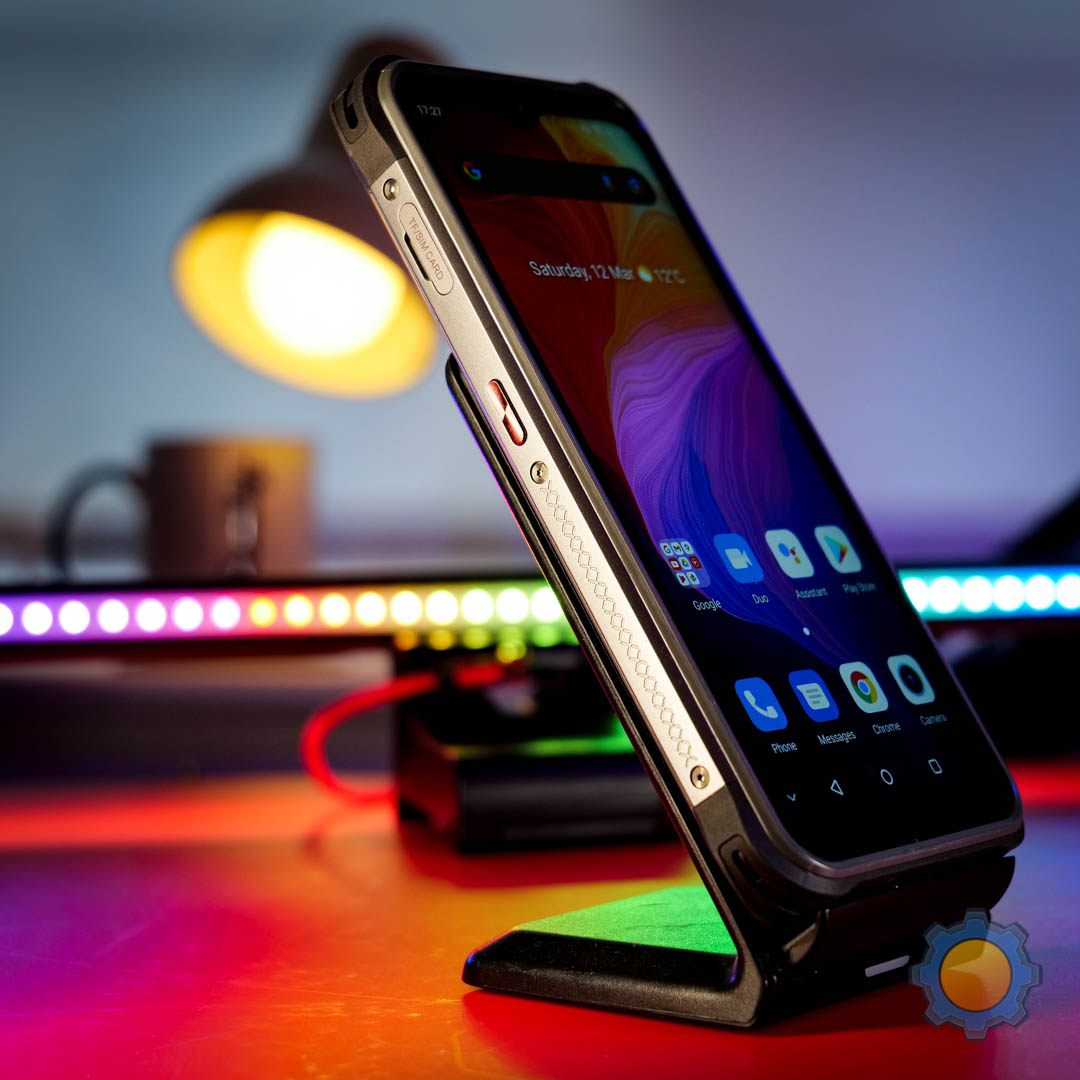 Basic features aside, Somehow NFC payments, wireless charging, face unlock and 20MP camera made to the spec list and I'm genuinely mind-blown what little money can get you nowadays. Apart from the usual phone specifications, there are:
2 SIM card support
2.4GHz/5GHz WiFi / 4G Mobile network
MicroSD card (at the cost of one of the sims)
Headphone Jack
Waterproofing
10.000 mAh battery
4GB RAM/ 64GB Storage
Custom Button
Face Unlock
Wireless Charging (15W), NFC,
and more…
At this point, I should probably mention the ruggedness of the armour. The composite shell is finished with rubberised anti-shock corners to withstand the impact on concrete from 1.5m. After dropping my Doogee S86 (review) several times on garden slabs, I have no doubts this phone can do the same – as both phones feature military-grade certification of being everything proof: MIL-STD-810G.
Despite the heft and the size, it feels pleasant in my hands. Just make sure you have the pockets to carry this thing.
Display
UleFone Power Armour 14 made space for 2 prominent features: a 6.52″ display – which is just humongous and hidden underneath that ocean of pixels 10.000mAh battery. Featuring a 20:9 aspect ratio, it feels reasonably good in the hand, but after using QHD on my Xiaomi Mi 11 (review), the mere 1600 x 720 do feel a bit lacking.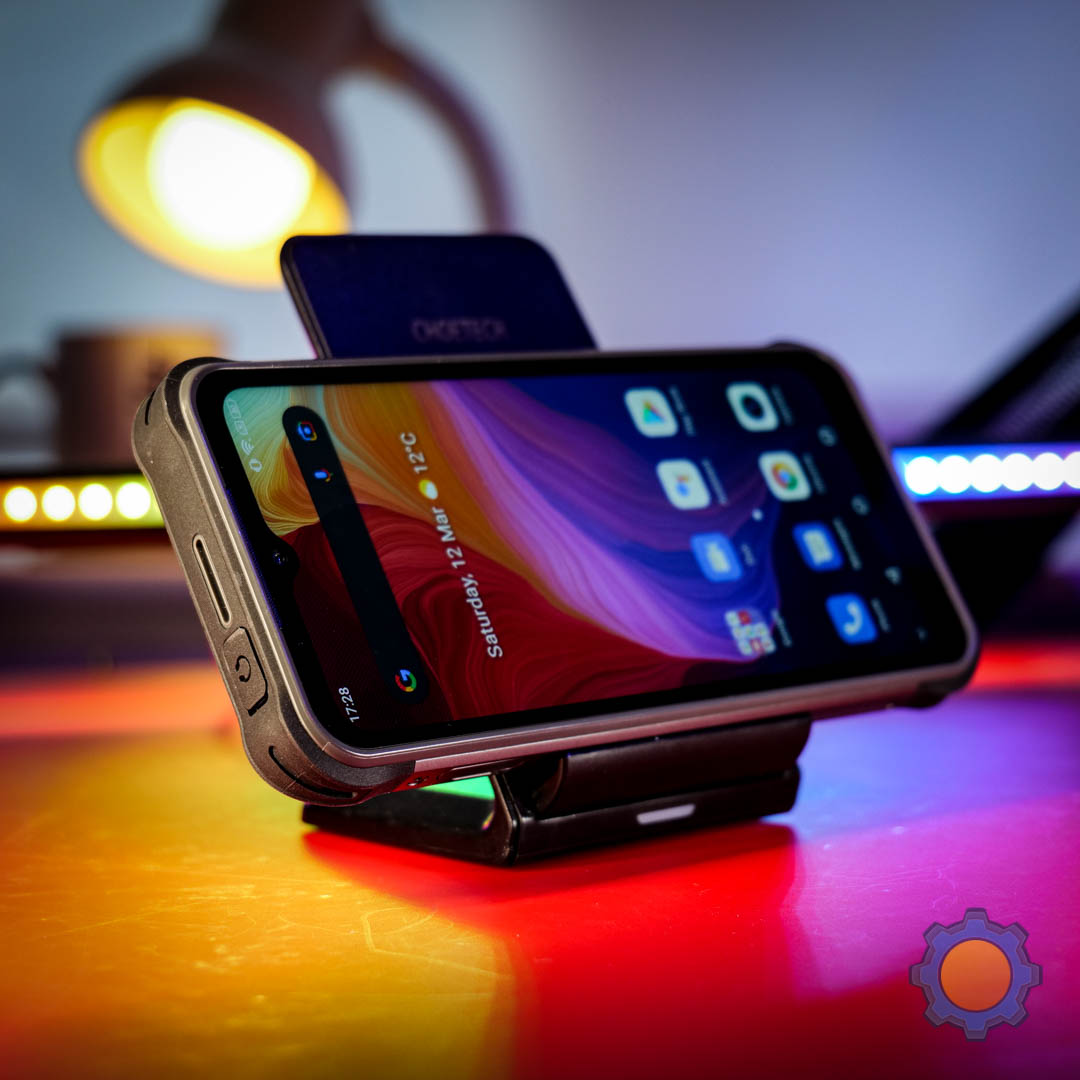 On the other hand, the display is bright and easy to use in full sunshine. Has a respectable colour reproduction at every angle (IPS LCD panel) and thanks to 3 colour profiles, you can change how the screen feels to your eyes. It's an LCD panel, so you won't find Always-On display options either. The notch can be hidden, if you can't stand the view of it, and the bottom line is, this isn't a phone you will ever use with one hand. It's simply too big.
The display came with a factory-fitted screen protector and a spare film to cover your screen from scratches. I despise these things, so both ended up in the bin.
Camera
20MP always sounds impressive, especially if you take a look at what Google Pixel 3 was capable of with its 8MP selfie camera. So the camera no longer should be judged by the pixel count, but by the actual ability to take stunning pictures.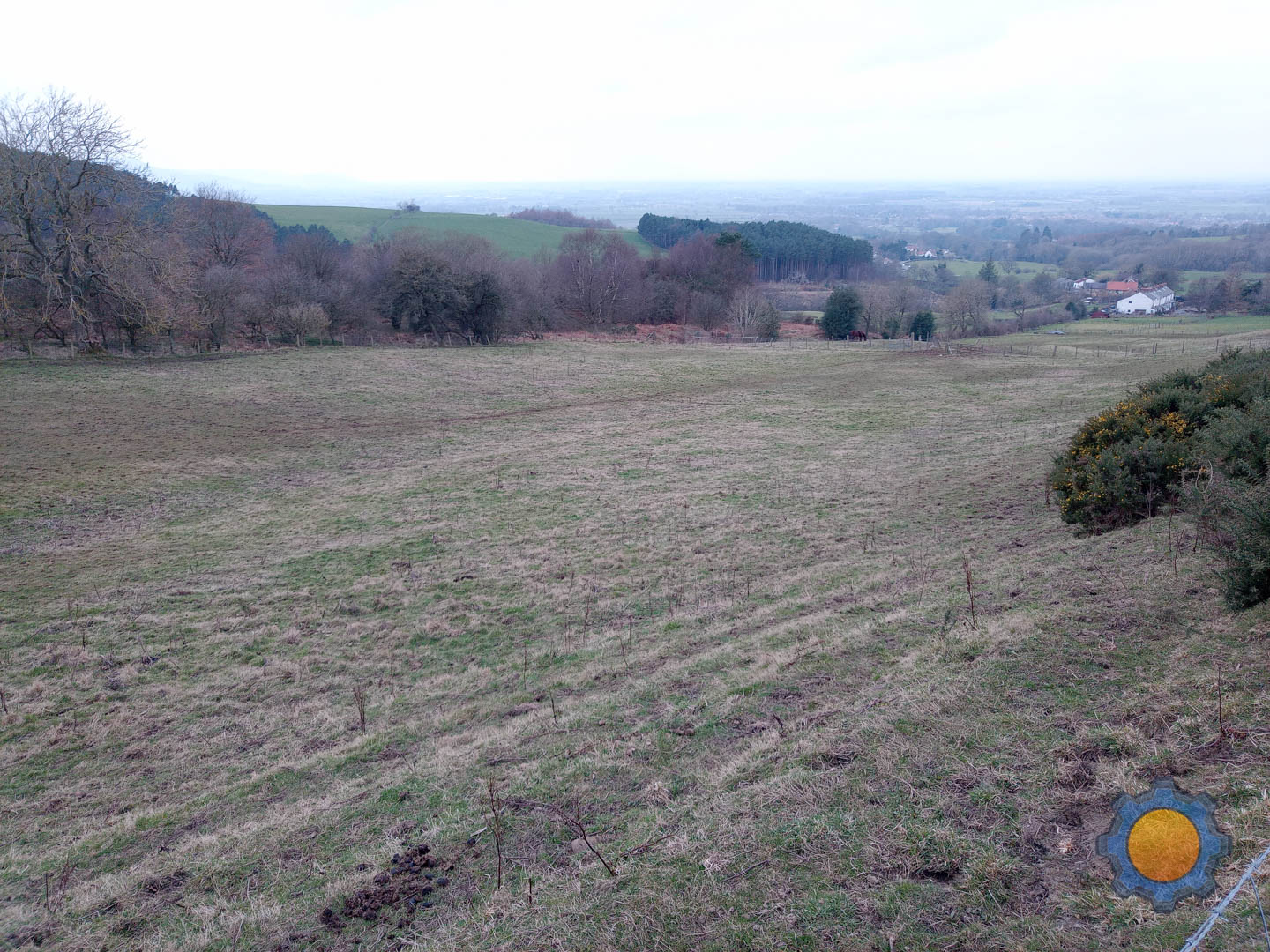 In theory, UleFone Power Armour 14 comes with 4 cameras, but in practice, your main shooter is the 20 MP, f/1.8, 26mm. The other two back-facing cameras are for macro and depth assist at 2MP each. I'm surprised to see a 16MP sensor on a selfie camera. With the limited budget they had, I think they set their priorities right to favour a single sensor at the back and the selfie camera, but the execution of this is a bit lacking.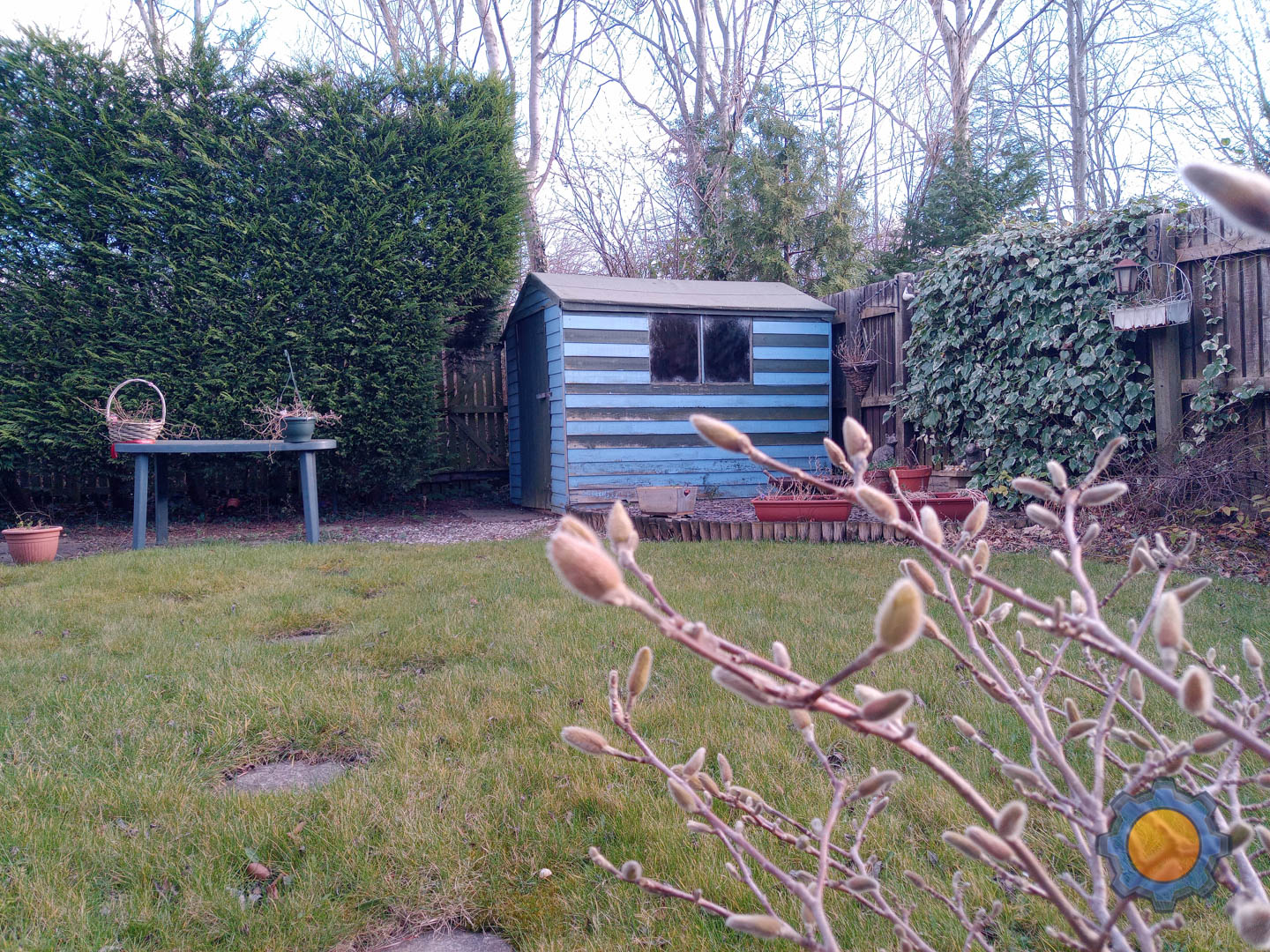 Pictures have the tendency to overexpose shots. It's fixable, but you must keep on top of that, to get nicely exposed images. This applies to both the 16MP selfie and the 20MP main shooter on the back of the phone. Autofocus is slow and has problems when shooting at night or aimed at dark targets. Speaking of shooting in low light conditions, the images pick up grain quickly, and the built-in AI doesn't help much.
If you have UleFone Power Armour 14, take advantage of the pro mode and use EV stops and ISO settings to your advantage. It will slow the process of taking pictures, but your snaps will be acceptable. I have a feeling that Ulefone saved money on the decent sensor, and spent it on NFC and wireless charging. Doogee S86 easily trumps UleFone Power Armour 14 in that regard.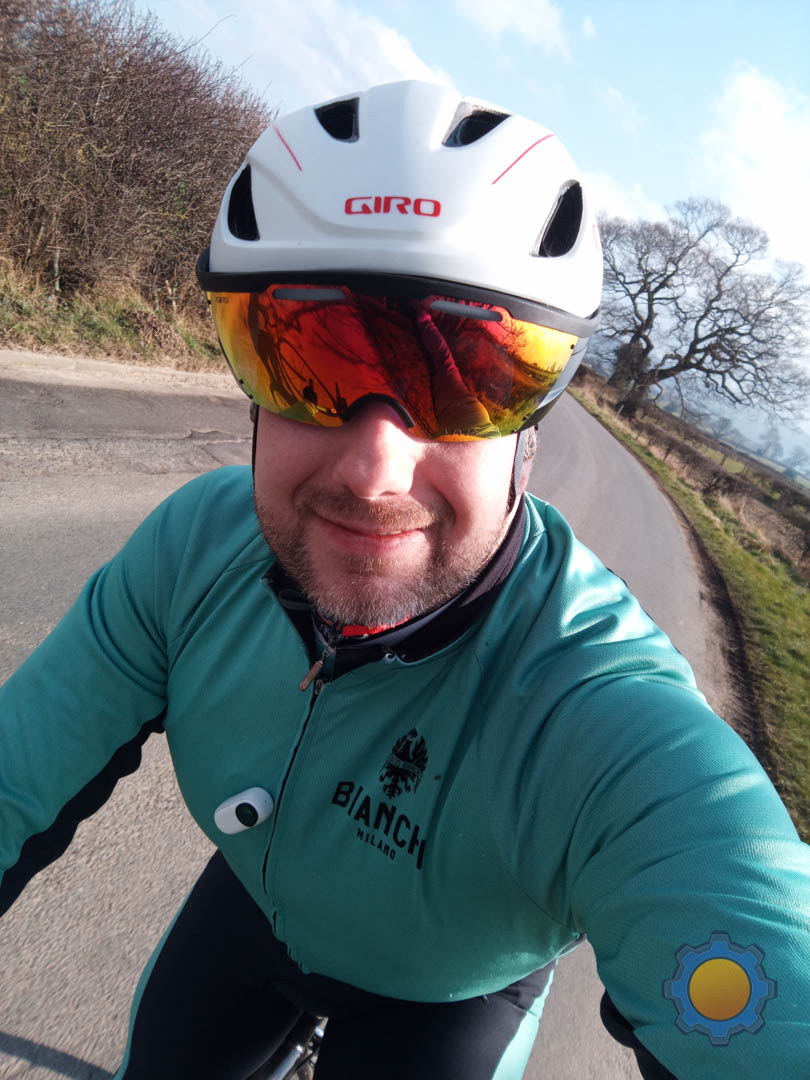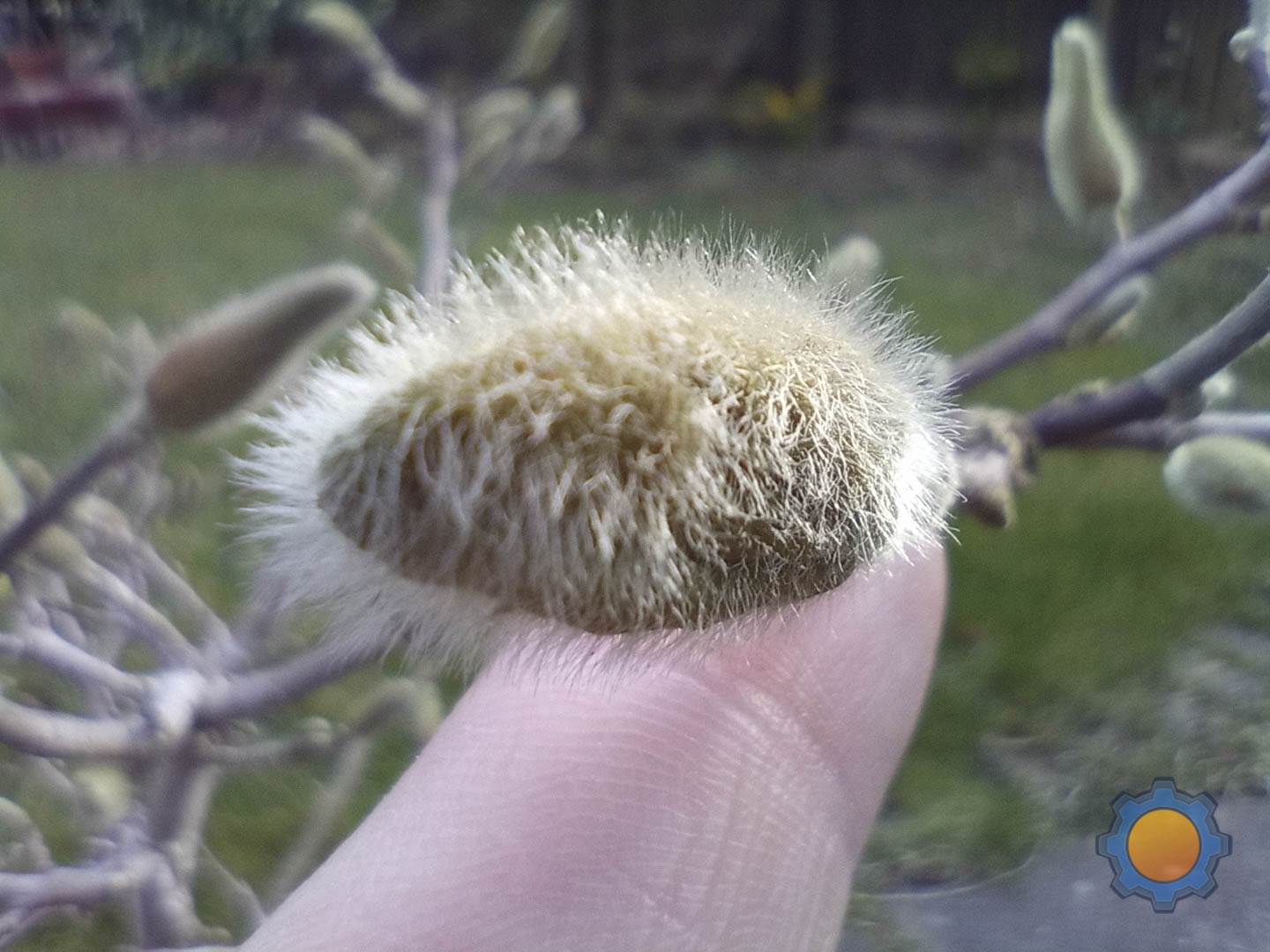 Video
Unfortunately, the video mode is the most disappointing feature. UleFone Power Armour 14 is locked to 1080P30 and that feels dated. If the video isn't your priority, you can get away with it, but personally, I'd pay more to see the option for 1080P60. Just like in the image mode, the video has the tendency to overexpose and handles low light scenes with a lot of noise.
Both cameras will serve their purpose for the video chats, Teams and Skypes, but abandon any hopes to pull a Ridley Scott worthy footage. It's not to say I'm a big fan of tech over substance, I equally saw no reason for 8K video mode to exist on my Mi 11. The bottom line is – it will do the job. Nothing more, nothing less.
In use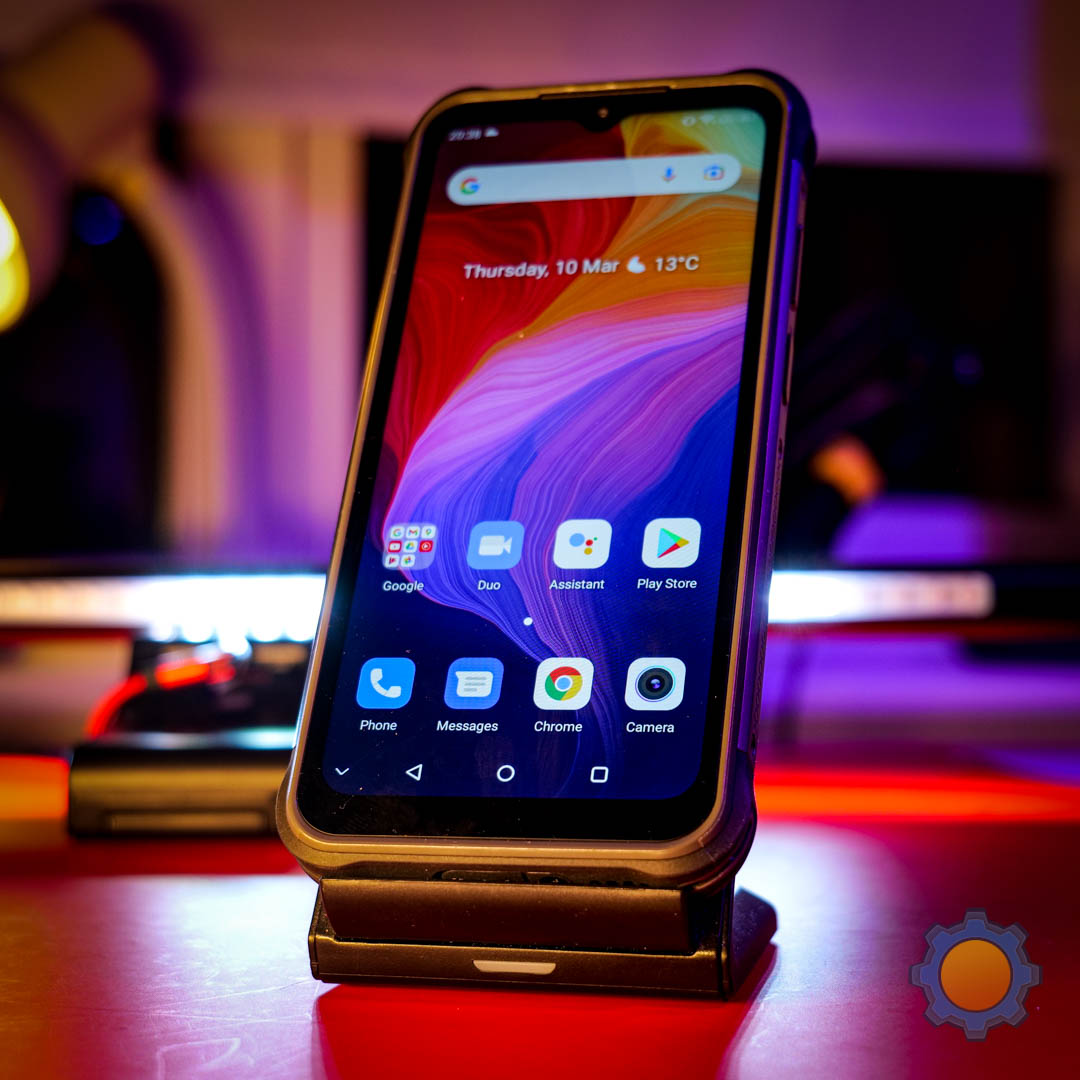 It's the first time I got to try the fingerprint unlock located on top of the power button. I'm still not sure how I feel about it, but as the face unlock is speedy, I found myself reaching for that fingerprint scanner only sometimes. You can unlock the phone by pressing the button (and passing the biometrics) or simply by touching the reader. It took a moment to get used to.
UleFone Power Armour 14 also has a programmable button on the opposite edge, which you can map up to 3 functions (Single/Double/Long Press). Love the idea, but I have the same complaint to make – the button activates easily. It's prone to accidental activation, so avoid mapping anything that doesn't require unlock to a single press. Otherwise, you may open your bag and see the torch turned on.
Games?
I wasn't sure what games I should load on this thing considering the slight latency in use. On paper, the processor looks capable, but the camera looked great on paper too. With a 10.000mAh your gaming sessions will be hours long and 4GB of RAM gets the job done. Plus, if you going to pass the phone to your offspring you can rest assured, it will come back to you in one piece.
So I casually tried a couple of games.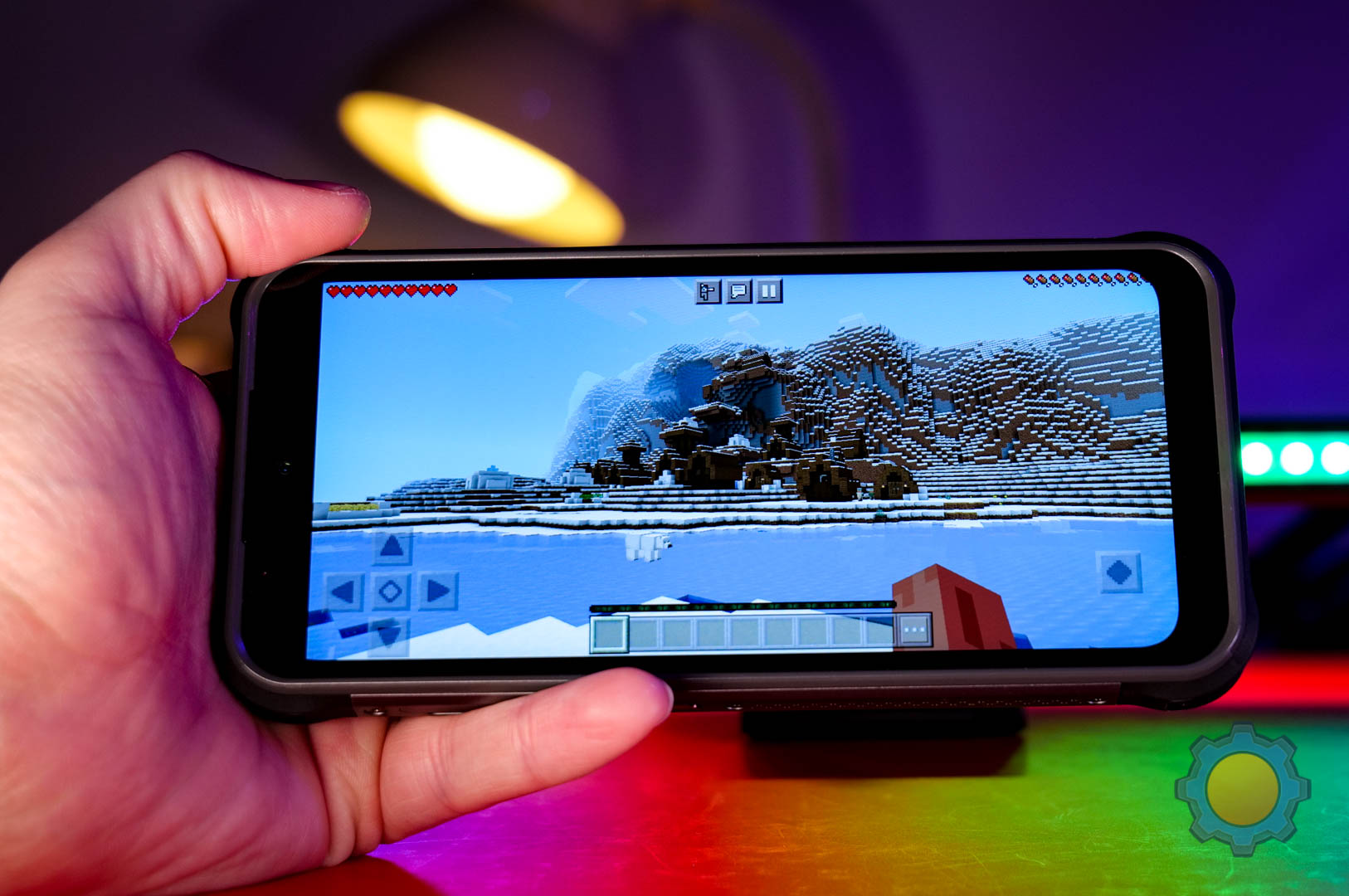 Getting Casual with Hades' Star or Don't Starve
No problem there. Games load times are fine, played well and looked great on the 6.52″ display. If you let your kids play with your phone, they will have a good time for hours, and you won't have to stress about the phone meeting its end the moment it hits the tiled floor.
Minecrafting
To my surprise, even with chunk loading increased to 10, the game worked nicely. There was no fluidity associated with 60FPS rendering but the game didn't lag even in open spaces where you could see as far as the loading distance lets you. With certainly passable experience I decided to try a new game.
PubG
If you want to get even remotely competitive, you will need headphones (this is where included headphone jack comes in handy). With an SD resource pack, the game perhaps didn't look stunning but was definitely playable. Looks like this phone can handle a bit of gaming after all.
Media and YouTube
Despite my initial worries about the screen size and its resolution, the YouTube experience is actually pretty good. If you are watching cinematic stuff, pinch to zoom comes in handy to expand the video to the full 20:9 ratio.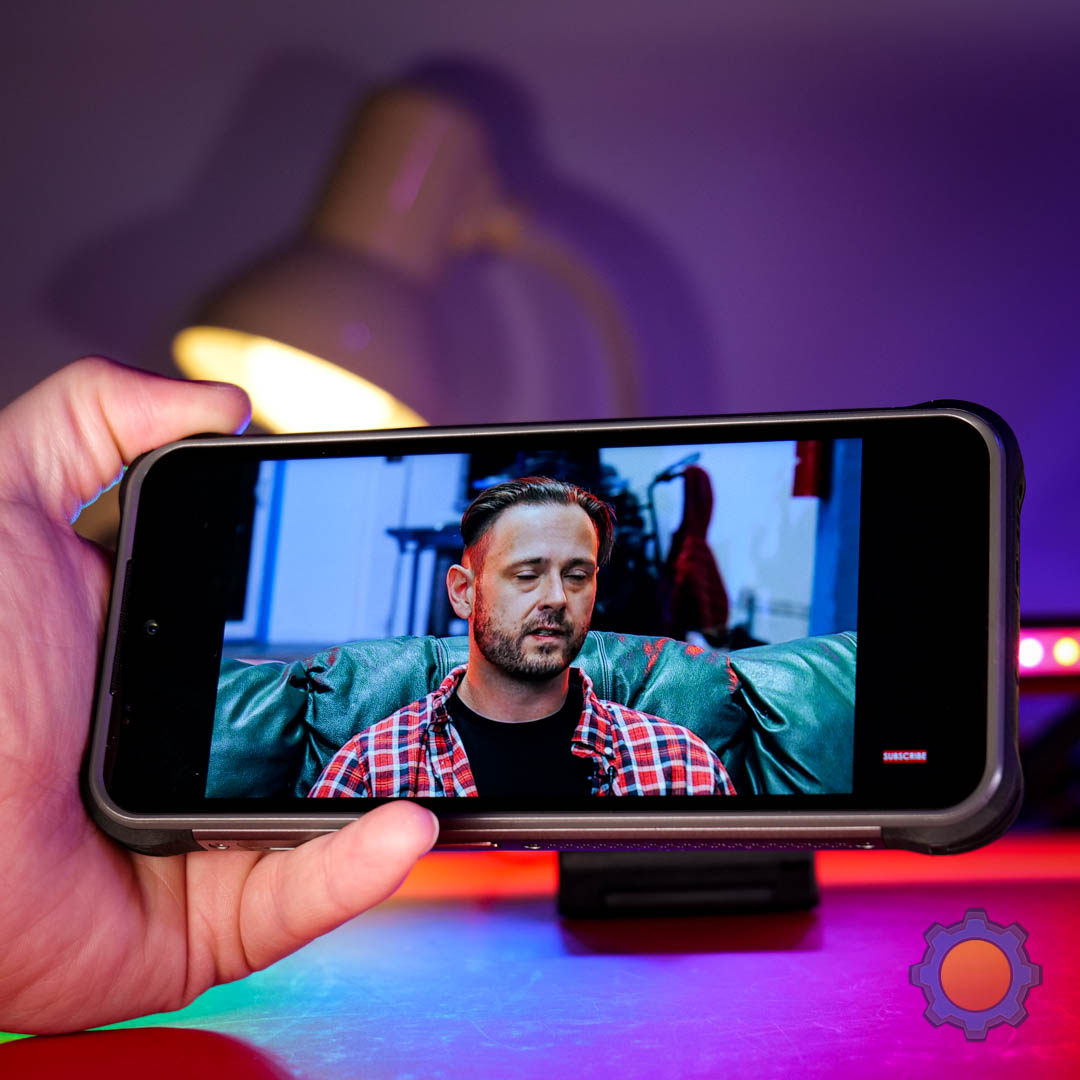 The speaker is located at the bottom of the device, which is a bit annoying if you watch the videos (as you should) in the horizontal orientation, but it's incredibly loud. Loud to the point of being unpleasant to listen to (not distorted, or anything).
Once you get past the sound being played on one side, the screen and media consumption on UleFone Power Armour 14 hold up well. Thankfully, the phone comes with a headphone jack and Bluetooth, so you can remedy the sound with a pair of headphones of your choice.
I didn't like…
Android 11, which is pre-loaded on UleFone Power Armour 14 is bloat-free, altered enough to feel different. I appreciate the brand not littering the ROM with bloat and useless apps, but the design feels a bit dated. Funnily enough, this is the same ROM that is featured on Doogee S86. I'd appreciate a clean Android more, but I do understand the inclusion of things like a simplified launcher that may help the elderly and anyone with fat fingers.
Another area where the price of the device shows itself to the user is the overall responsiveness of the device. It's not sluggish and doesn't hang up like Xiaomi Redmi Note 9 (review), but you can clearly tell, that the CPU could use a boost. I'm not talking about the animation speed, but how quickly apps launch. It takes just that second longer than you would expect. Perhaps I'm spoiled by Xiaomi's 120Hz display and the latest Snapdragon, at the same time, I have to remember that this phone is 6 times cheaper!
Final Thoughts
Ulefone Power Armour 14 comes with a price tag of £113.53 which is very appealing for anyone looking for a second phone that can withstand the apocalypse. While personally, I'd need something a bit snappier, with 1080/60 recording to keep on me as my primary phone. Ulefone will replace the Doogee S86 that was in my backpack at all times. I have better phones (Xiaomi Mi 9, Google Pixel 3) to use as my secondary device, but none of them offers anything new. UleFone Power Armour 14, brings great durability, and battery life when I'm away and the main phone is just not cutting it. Let me know what do you think about it in this Reddit thread.
🆓📈💵 – See the transparency note for details.