On my quest to win every square centimetre of the desk estate, I replaced the soldering station from YiHua (review) with a TS80p soldering iron (review), added a minuscule hot plate to fix up electronic boards and even got a card-sized scope that no maker can live without. MiniWare hooked me up with another awesome tool that will replace the Tenma bench power supply taking 1/20 of its size: MiniWare MDP-XP Mini Digital Power System (AliExpress, Banggood).
MiniWare MDP-XP is a power SYSTEM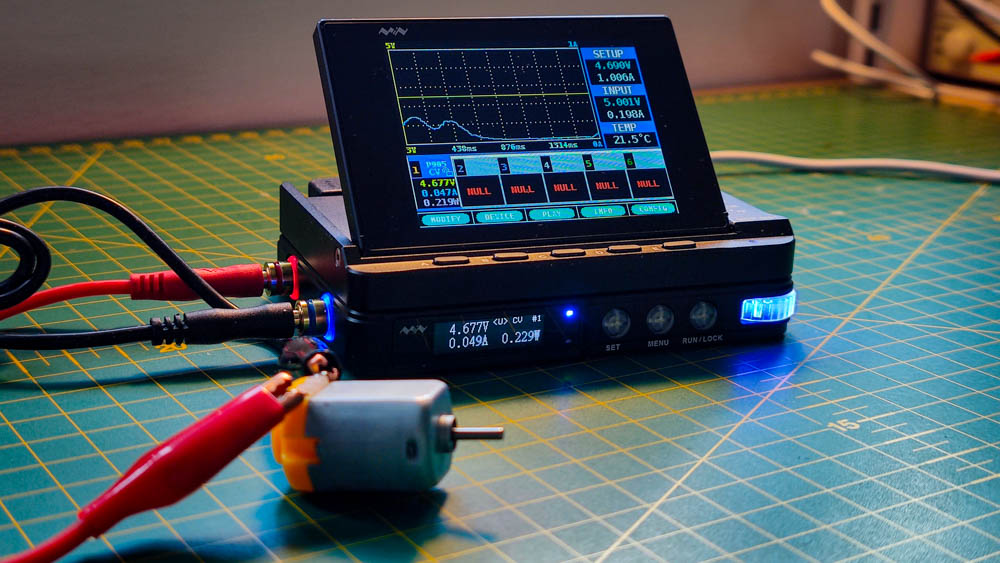 I'm guilty of briefly looking at MiniWare's listing, reading 3 lines of the description and instantly making the decision that I cannot live without it. Considering how much I spent on my bench power supply (not that much, about £60), I don't even consider MiniWare MDP-XP expensive. Priced anywhere between $130-$150 is already worth it to me thanks to its space-saving features. There is so much more!
Turns out, MiniWare MDP-XP is a power system, not a power supply. I got much more than I initially bargained for. After I studied the page to figure out what exactly I have in my hands and how to use it, I discovered that this mini power delivery system is pretty cool.
What's so attention-grabbing? Oh, where do I even start? What I got in the box are 2 devices which are part of a very clever (and flexible) power system. MiniWare MDP-XP is modular and the base stack includes the following modules:
MDP-M01 Control unit
MDP-P905 Mini Digital Power Supply
Cooler than a cucumber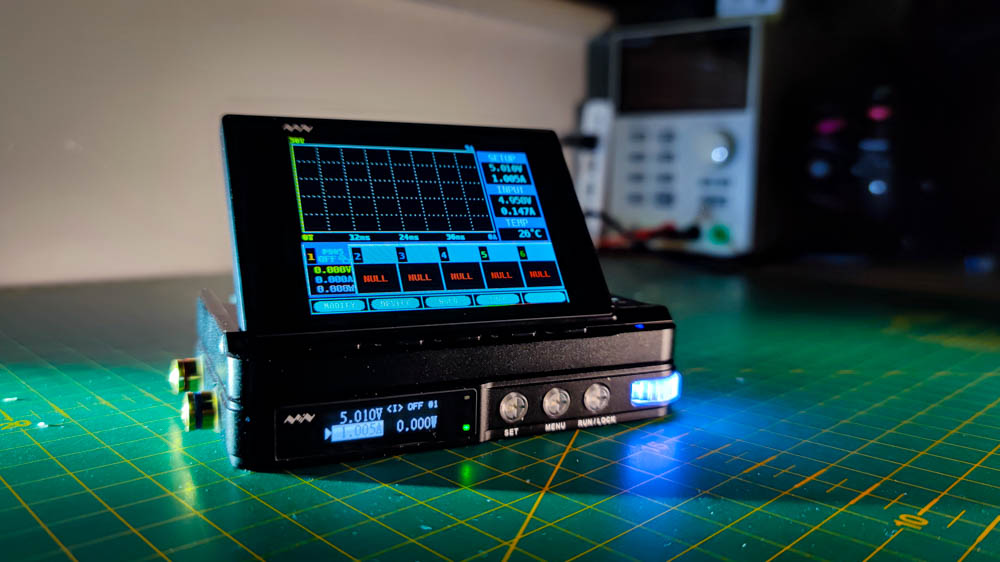 These are 2 separate devices that work together wirelessly. Yes, wirelessly! Even though they are stacked and connected with a custom cable. It turns out, that MiniWare MDP-XP is a stackable power system that supports up to 6 modules. Right now, only MDP-P905 Mini Digital Power Supply is available but in the future plans extend to:
300W USB-C PD version of the power supply
Digital Signal Generator
Electronic Load
Power Charger
Battery Pack
I realise, that it's been a while since the MiniWare MDP-XP had been released, with no other modules in sight on any international stores (including AliExpress). That part doesn't sound too encouraging, but I recently received an update from the MiniWare team about the progress on the modules and the information is as follows:
Electronic load: The project has completed the function realization, and is doing the appearance design and optimizing the firmware
New power module (30V 10A 300W output, support PD100W input): 90% completed, user testing is now underway
Battery module: under development
Data logging: firmware is under development
Programming output: update to P905 version 1.30 firmware to support programming output (please refer to the update instructions for the usage method)
via MiniWare PR
Let's hope they start being available soon! On to the modules itself
MDP-M01 Control unit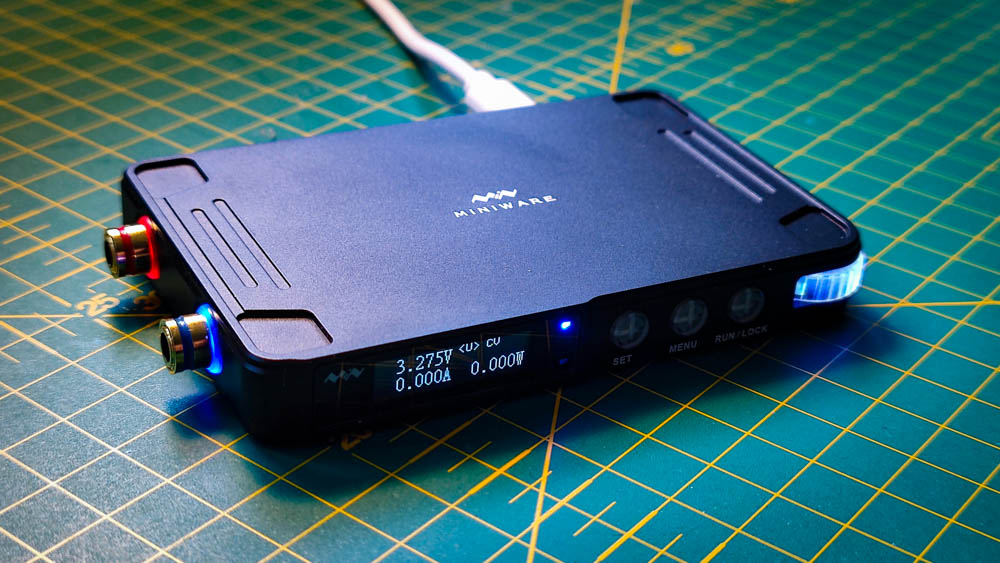 As the name suggests, this is a head unit equipped with a large display, buttons and encoder controls to command all modules in the stack. It's powered by a micro USB cable, and the one included can draw the power directly from the power supply unit. The cable supplies power only, as the data exchange between the control unit and modules happens wirelessly.
Although the WiFi connectivity is using a 2.4GHz band, the max distance between the data unit and the actual power supply is about 2-3m. It's a bit disappointing, as I imagined having up 6 units scattered around the room powering various things and once control centre to monitor it all. You can call me spoiled at this point.
The MiniWare module displays the controls for individual stacks and has the ability to plot charts for voltage and current. Apart from showing the current settings, the unit can change the voltage and current values on the fly. The time code for the graphs can be adjusted using encoders and buttons present on the unit allows for toggling the outputs remotely, taking screenshots and changing views.
MDP-P905 Power unit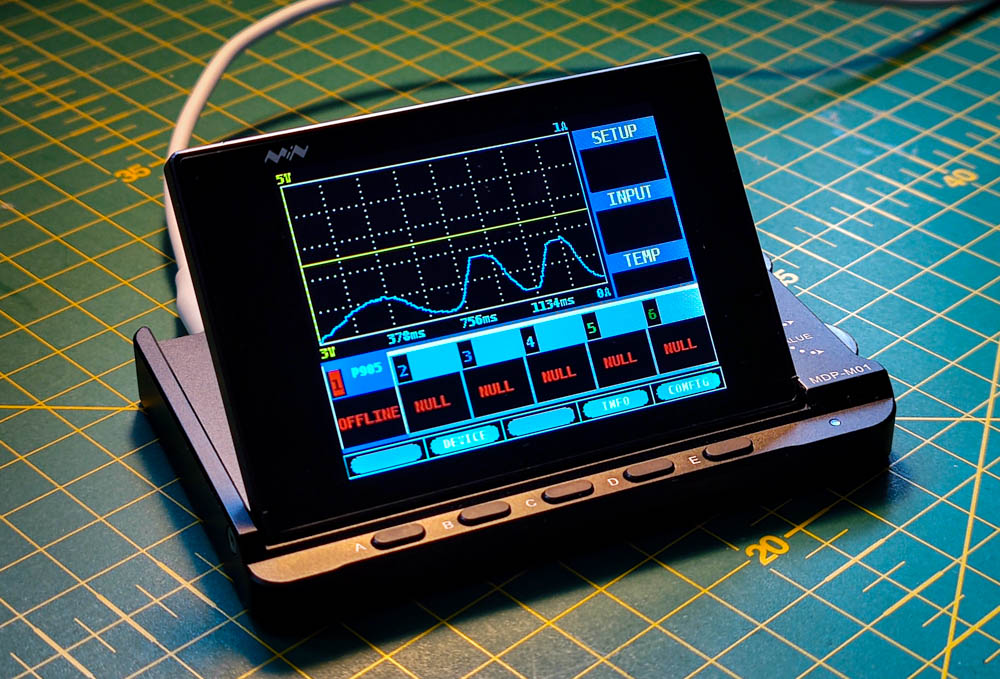 It's a power supply, that can be used independently from the control unit. You will recognise a familiar display present on MiniWare tools like a TS-80P soldering iron or MHP-30 hot plate. The power supply takes either USB-C (QuickCharge 3.0) or DC jack input up to 30V (6A max).
It's a really thought through design. Values can be easily adjusted or preset thanks to text file config accessible from a computer and outputs emit light when powered up, so you never have to second guess yourself.
MiniWare MDP-XP covers a range from 0-30V and can deliver up to 5A of current. This will obviously depend on the input type, but I had no problem boosting my 5V USB charger to 12V (at the expense of the current) or even 30V which is pretty awesome. You could even drive this from a portable battery.
At the moment, the biggest disappointment for me is the lack of support for USB-C PD. Having a USB-C port at the back I almost took it for granted, unfortunately, QuickCharge 3.0 is all we get in terms of fancy protocols, as this is being addressed, soon my criticism won't be valid.
Better than bench power supply?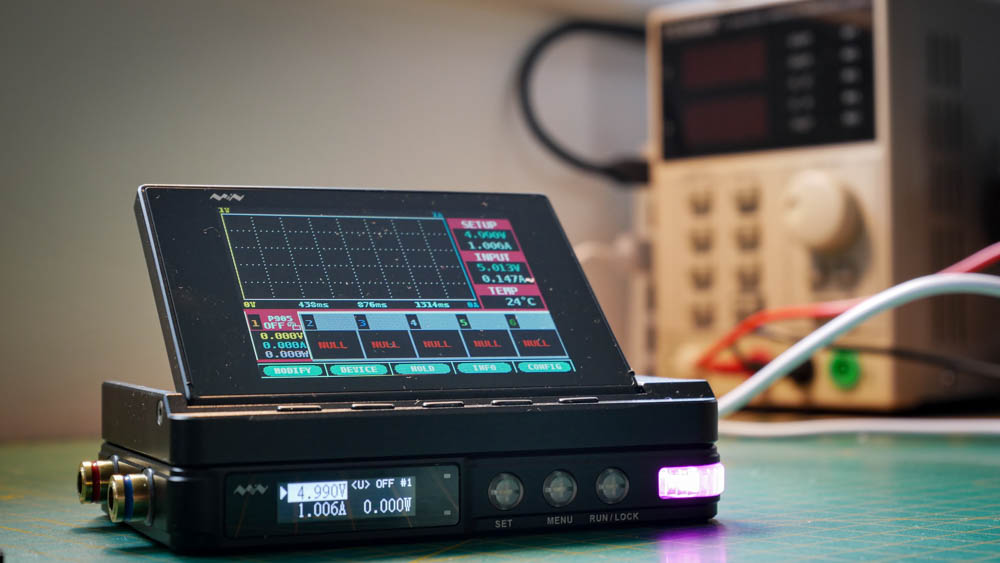 It's time to throw some numbers at you and pretend that I know stuff. I don't really, but I'm great at reading manuals. As I already have an oscilloscope from MiniWare (review), I can look up the ripple/noise levels and compare them to my table PSU. Neither will probably qualify as the lab-grade equipment but will satisfy most makers.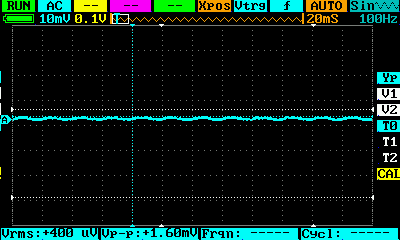 Comparing the results between MiniWare MDP-XP and the Tenma power supply which I paid about £60 for we can see a smaller ripple in the Tenma power supply but overall Vpp and RMS values are very similar. Both units are more than adequate for makers unless your projects are sensitive to electrical noise. In that case, a power supply matching your needs will cost you an arm and leg.
| | | |
| --- | --- | --- |
| Power Supply | V RMS | Vpp |
| MiniWare MDP-XP | ±400µV | 1.60mV |
| Tenma bench power supply | ±400µV | 1.40mV |
Tested values at 5V and 500mA load
Both power supplies share similar specifications. If a budget power supply is good enough for your needs, choosing a slightly more expensive, but compact, MiniWare MDP-XP is going to give you a similar performance (if not better).
MiniWare MDP-XP isn't a tool for professionals but for people who take their hobby seriously. Over the years, I developed a thought that MiniWare makes cool tools for makers in the same manner as flagship phones. They do what is expected of them, they are probably more expensive than other things that let you achieve the goals and they cannot compete with professional and dedicated equipment. But MiniWare tools are cool as heck, and the hardware you get is worth the money.
Final thoughts
It's a fantastic space saver, and considering the functions and pretty wicked wireless capabilities, I don't consider it that expensive. At $130-150 USD (right now) is twice the price of my bench power supply which was only able to set the values and read the current consumption on a 5 digit display. MiniWare once again delivered a fantastic tool that got my work friends talking and wishing they were me! If you are in the market for a space-saving power supply, MiniWare MDP-XP is definitely recommended. Let me know your thoughts in this Reddit thread.
🆓📈 – See the transparency note for details.