I don't think the images do justice to this particular device. Feiyu Pocket 2 (FeiyuStore, Amazon) is made entirely of machined aluminium and feels almost bullet-proof. With built-in WiFi and 4K60FPS support it sounds like a perfect mix of features offered by Fimi Palm (review) and Orange M1 Pro (review) so let's see if the performance of this mini gimbal is on par with its build quality.
Feiyu Pocket 2 and its weird twin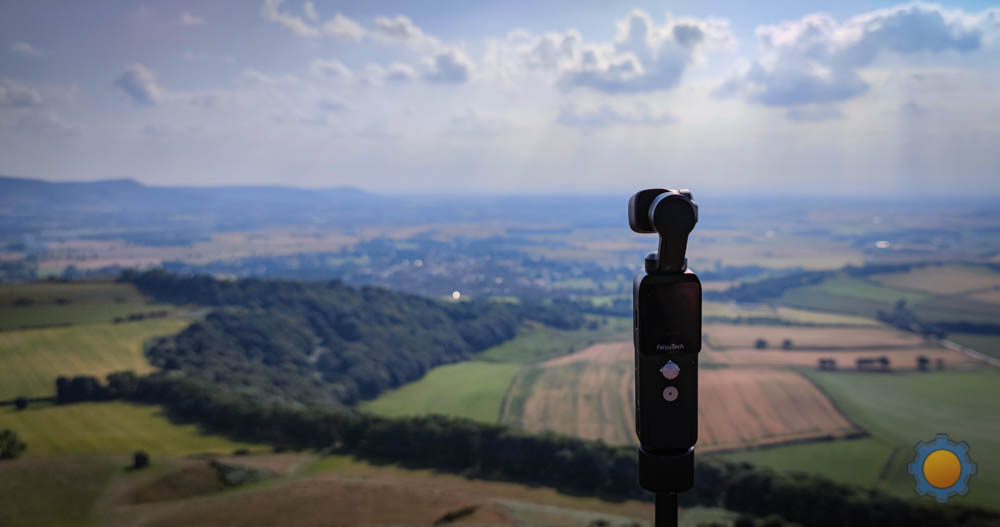 You may not know this, but Feiyu Pocket 2 comes in 2 versions (although I got to play with just one) There is a very intriguing twin brother (Feiyu Pocket 2S) that uses a cable extension to connect the gimballed camera lens with its body. You should also check it out. I could think of a couple of use cases for that weird brother myself, but I only have on my hands the WiFi-enabled version of the Feiyu Pocket 2, so I'm going to focus on the one at hand.
Hardware
Inside the box, you will find the Feiyu Pocket 2 itself, a very handy plastic storage case with a charging port exposed, a charging cable and a sling. This is by far the smallest gimbal camera I had. Holding the gimbal in my hand feels premium thanks to the machined aluminium body. The metal feels nice and cool in my hands, and the case despite being made of plastic, feels like it can protect the gimbal without being a hinder in use.
Feiyu Pocket 2 has 2 buttons, a joystick and a touchscreen display to navigate through all the menus. A USB-C charging port is at the side and a 1/4″ screw adapter for a tripod located at the bottom. It's an ideal configuration where you can charge the gimbal while shooting and keeping mounted on the tripod at the same time.
Buttons have handy shortcuts included in their double click and hold functions, so you are never more than 1-2 seconds away from switching to the desired setting. Included battery suppose to last up to 4.5h, and I have to say it's impressive how long the device lasts on a single charge.
Specification:
Sony Sensor: 1/2.5″CMOS
Lens: FOV:120°, aperture F2.8
Max Image Size: 3840*2144
Photo Formats: JPG/JPG+DNG
4K: (25/30/60)
3K: (25/30/60)
FHD: (25/30/60/120)
Supported SD Cards: Micro SD 512G
Display: 1.3 inch /IPS/240*240
2.4GHz WIFI
Battery 4.5h
Weight 115g
Stabilisation
If you never used a mechanical stabilisation before, you will love how nice the videos look. Great stabilisation and framerate always win with raw pixel resolution. Feiyu Pocket 2 comes with 2 follow response settings: smooth and action and the following stabilisation modes.
| | |
| --- | --- |
| Mode | Description |
| AI-Follow | The camera follows in each direction reducing the shake and jitter |
| Follow | The camera keeps the gimbal horizontal while following other axes |
| Pan mode | Allows for pan motion only |
The image is nicely stabilised and even in extreme conditions, it handles itself well. You will have no problems getting butter-smooth videos out of the gimbal. I certainly didn't have any issues despite my very shaky hands.
Tracking
Face tracking is available, but the system could use some work. The initial detection of faces seems to be ok, but the bounding box loses track when the face appears to be at an angle. Feiyu Pocket 2 will lose track if you move out of the frame quickly, but it does a pretty good job at recovering the face track once you are back in the frame.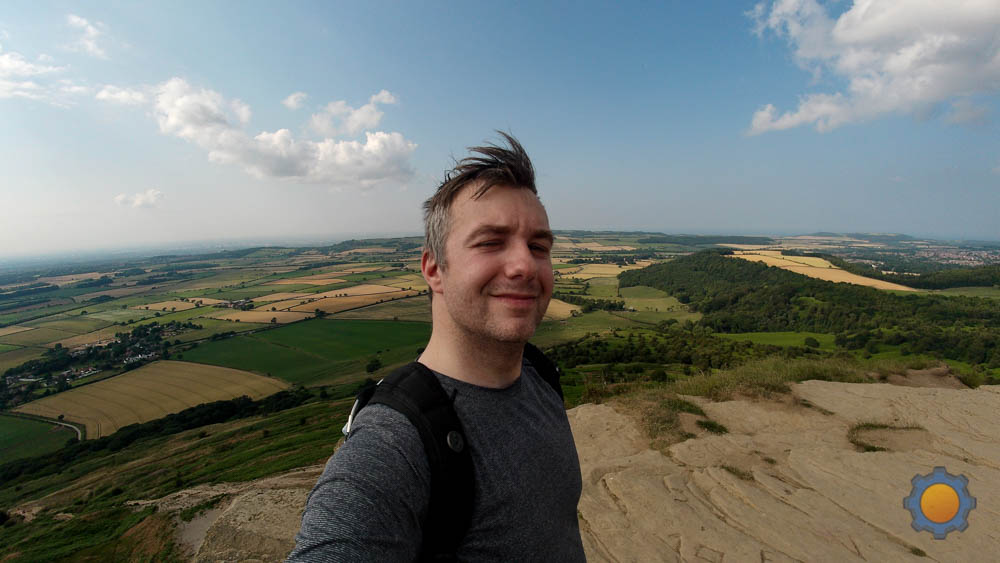 The face tracking is available in 4K60FPS mode (that's a rarity), it's far from ideal. The latency is significant due to the processing power that 4K60FPS encoding takes. If you want to track effectively, you will have to drop down the framerate or the resolution. Object tracking is only available when using a mobile app.
Object tracking is available in the app only, and you can draw a bounding box over the tracked object. Unfortunately, object tracking needs some work done. I was trying to track a can of coke, which has a distant colour and shape with very poor results.
Audio/Video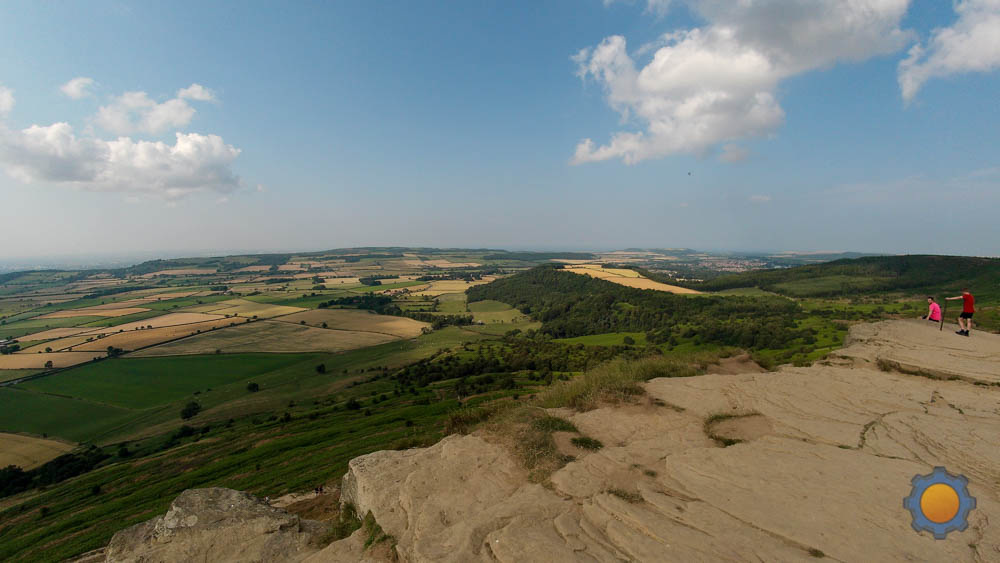 Despite the small size, Feiyu Pocket 2 supports 4K60FPS at its highest resolution and 120FPS 1080p. While 4K footage is native, the 120FPS mode is achieved by interpolating frames. the effect is alright, and personally, I favour 1080p60 over extra frames.
The camera has ok dynamic range, it will automatically measure exposure in 2 modes: average and centre weight. The addition to locking all settings in PRO mode comes in handy if you have the time to pre-plan the footage.
Feiyu Pocket 2 offers several modes to shoot in:
Video
Photo
Timelapse/Hyperlapse/Motionlapse
Panorama
SlowMotion
The video quality is good. Even in low lighting, the video is acceptable, with compression artefacts being present only in the nightmare scenarios like filming woodland foliage. There is enough detail and good colour reproduction to save your summer memories.
Other modes
MotionLapse is limited to 2 tracking points, if you were planning on getting fancy, the FeiyuCam app allows you to add more points to your tracking path. Slow-motion ranges from 2x in 4K mode (60FPS played at 30) to x8 in 720p. It's not something I would use a lot, but some of you may find it handy.
Audio
The default audio level is quieter than I would like. Going into PRO mode allows you to change the audio levels, but I really wished the audio pickup was louder. The problem is caused by 2 issues: a microphone pinhole at the bottom of the gimbal is likely to be covered up by your palm and the recording levels are set pretty quiet.
My PR source told me that it's possible to get an audio adapter for the external microphone. I tried using bog-standard USB-C to 3.5mm without success.
Mobile app: FeiyuCam
The mobile app works over WiFi 2.4GHz – you will have to connect to the gimbal's AP and you can take over control over all functions. As the gimbal's menu lets you select all options, the advantage of having Feiyu Pocket 2 connected to your mobile means that you can direct the movement and the options of the camera without being near it – or simply while the camera is facing you.
The app is slightly rough around the edges but it does everything you need: from moving the gimbal around to editing clips with basic video editing tools. It's not revolutionary, so I would like to see extra work in that department. There is no support for streaming from the app, nor settings for RTSP. You are locked to the FeiyuCam app.
One of the cool, but slightly gimmicky features at first, is the ability to link and sync up the phone's orientation data with the position of the gimbal. This works surprisingly well and the transition from one orientation to another is properly smoothed but feel very responsive. Navigating via joystick is fine, but changing directions is jerky, this trick turns your phone into a camera extension. It feels more fluid and you do feel more in control. After playing with it for some time, I wish every gimbal had this.
I really liked the WiFi setup over QR, which makes it quick and simple, and even though I had to go through this just once, I wish other manufacturers would accept this as a standard.
Hot cake take
One of the reasons why we are treated to this alu machined body is heat dissipation. I had been filming stock footage for my Wahoo cycling computer review and the ambient temperature was about 27℃. The Feiyu Pocket 2 got considerably hot after 40 min of shooting. Working modes were not affected, but the device was not the most pleasant to hold in hand. Something to keep in mind if you are going to shoot on a sunny day.
Final thoughts
Other than the two issues highlighted, it's a really well put together device. Feiyu Pocket 2 (FeiyuStore, Amazon) comes at a $359.00 price at launch but my Chinese whispers tell me, you will be able to secure a more favourable price with a nice discount code. This gimbal is incredibly small and offers serious features. I hope something can be done about the audio levels in the next firmware patch otherwise, you would have to settle for an external microphone which is not ideal. What do you think about this tiny gimbal? Let me know in this Reddit thread.
🆓📈💵 – See the transparency note for details.