I'm not an Apple fan, their AirPods look like what happened to my old (and cheap) wired earbuds when my little sister pulled on a cord too hard. Coumi Freedom Dots (AmazonUS, Coumi) are not going to score any brownies points by mimicking that design either. But I have these in my hand, so it's time to take it for a 2-week ride and see what is that "freedom" all about. I dealt with the brand before, and my previous review was mostly positive.
Inside a posh box, it's the usual business. Earbuds with a charging case, overly short USB-C cable and spare pads for your ears to get the best seal. There is a manual and quick guide too to get yourself familiar with the product.
Now you can save 30% on Amazon US with the code VOOVK7JS
Whatever the case may be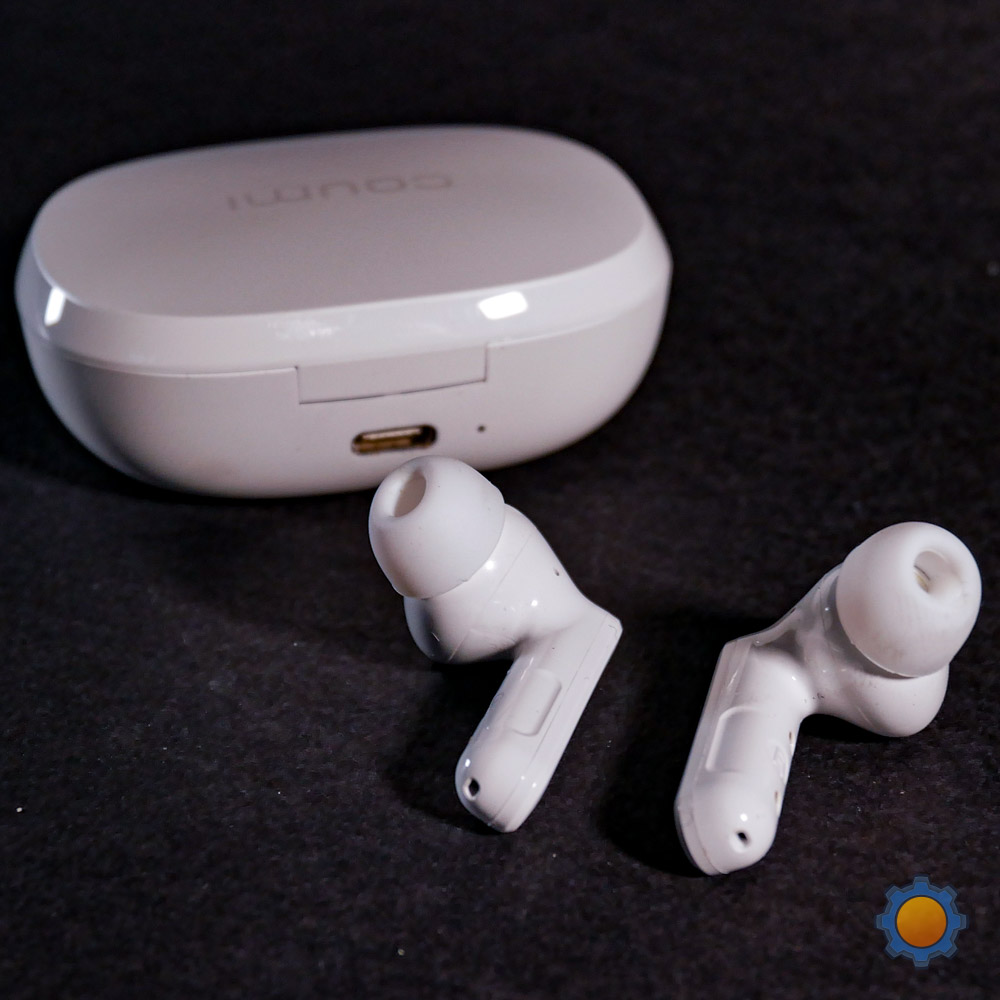 The case is bigger than I would like, but if you are going to mimic traditional earbuds shape, that's to be expected (in order to fit the headphones in). The redeeming qualities are the USB-C connector making it compatible with 21 century and pleasant shape that while noticeable in my jeans' pocket, it's not bothering. It packs a 500mAh battery inside and should be enough to charge your earbuds 3-4 times.
I like the fact that the pairing button is inside the case, what I don't like is the single LED at the back that does not indicate if the case has any juice left. It's a big case, I'd love 4 LED inside that show you the status of the battery for a couple of seconds.
Freedom Dots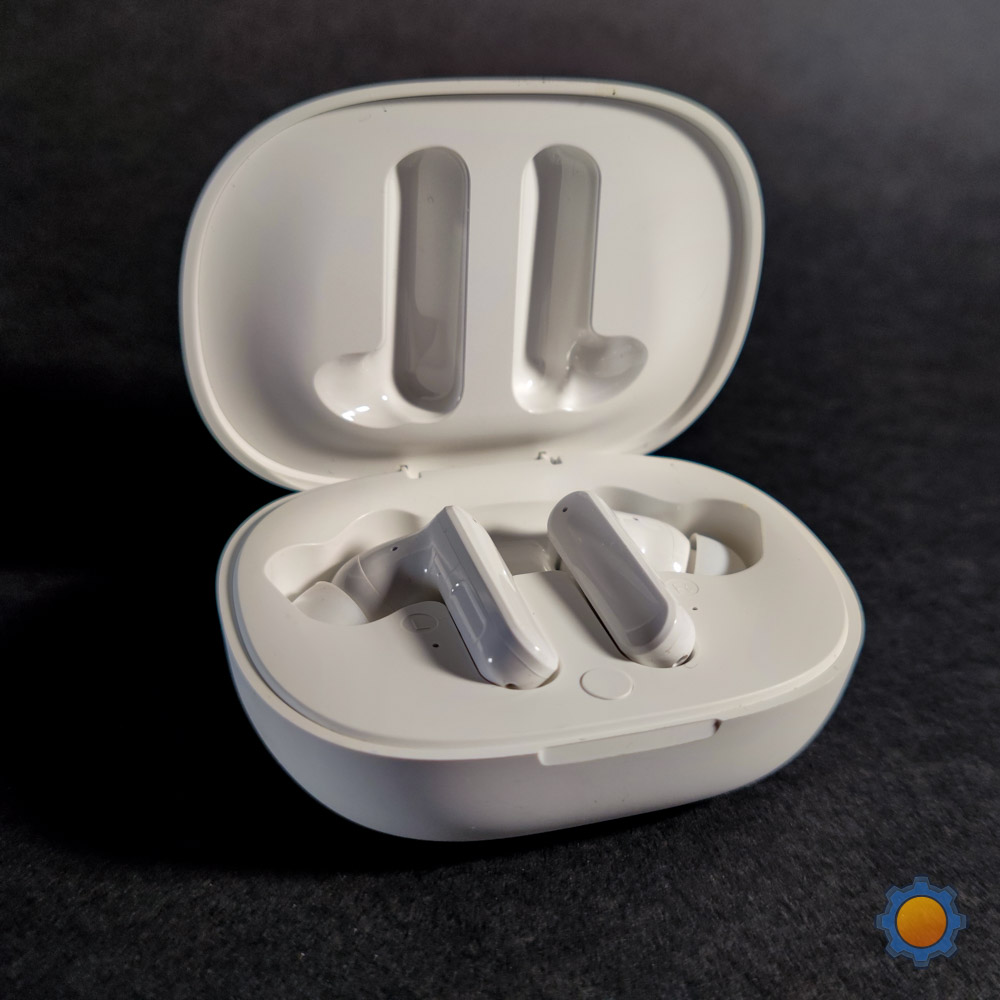 Despite my best attempts, I struggled to get a good seal. I used all pads, but each time I felt like these could do better with firmer pads. It's a personal thing, your mileage may vary. Coumi Freedom Dots should last you up to 6h which is fantastic. I'm getting closer to 4.5h with ANC on and volume cranked up a bit. The pairing process is swift and they usually get connected to the phone before you put them on. Range wise expect around 15m, without any interruptions and sound latency in media playback. So far so good.
The majority of the feedback from the earbuds is handled by a female voice I didn't hate (that's new, considering the enthusiastic German I came across in the past). She will guide you through pairing, tell you about incoming calls, announce the sound modes and interrupt you often when the battery is low. I much prefer tones to voice, but the sound of the voice picked is actually nice.
Squeeze me please
What I didn't expect is how comfortable controls are. The touch interface on earbuds can be hit and miss as you have to locate the earbud first, then the touch area and hope the slip of the finger won't count as input. This is never an issue with Coumi Freedom Dots. Thanks to pressure-sensitive input, you can touch the earbuds or even take it out without interrupting the stream. Squeezing the stick part produces light tonal feedback that almost translates to haptic feedback from pressing a button.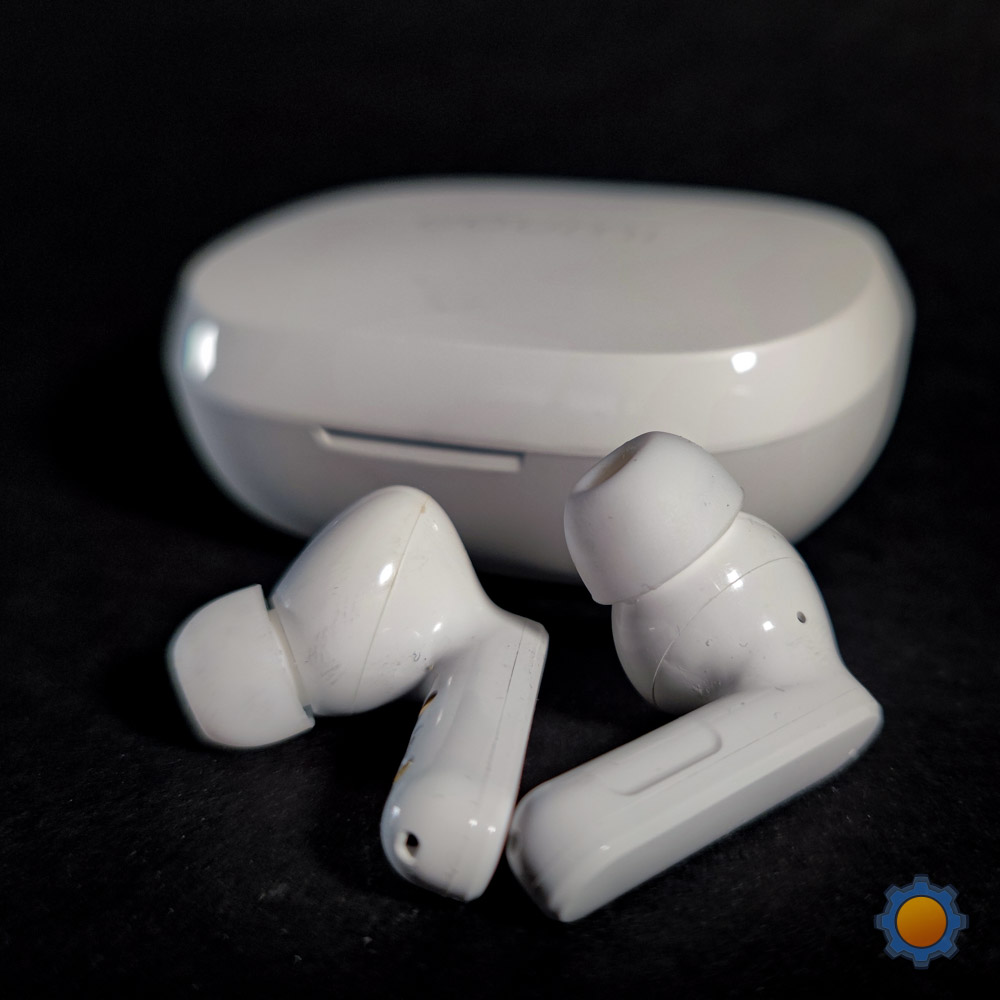 Controls allow you to access media controls, answer calls and call upon a smart assistant of your phone's choice. Volume control is missing.
ANC and Transparency Mode
Usually, these are hardly noticeable, but Coumi Freedom Dots actually did a really good job with both modes. ANC does work pretty well (despite my troubles with getting a nice seal) and cuts off more sounds than I expected. These are probably the best noise cancelling earbuds I tried to date.
Transparency Mode does the exact opposite. It uses an array of microphones to let the sound in. You can listen to music and be more aware of the environment around you. It's decent, probably even more so considering these are earbuds.
Sound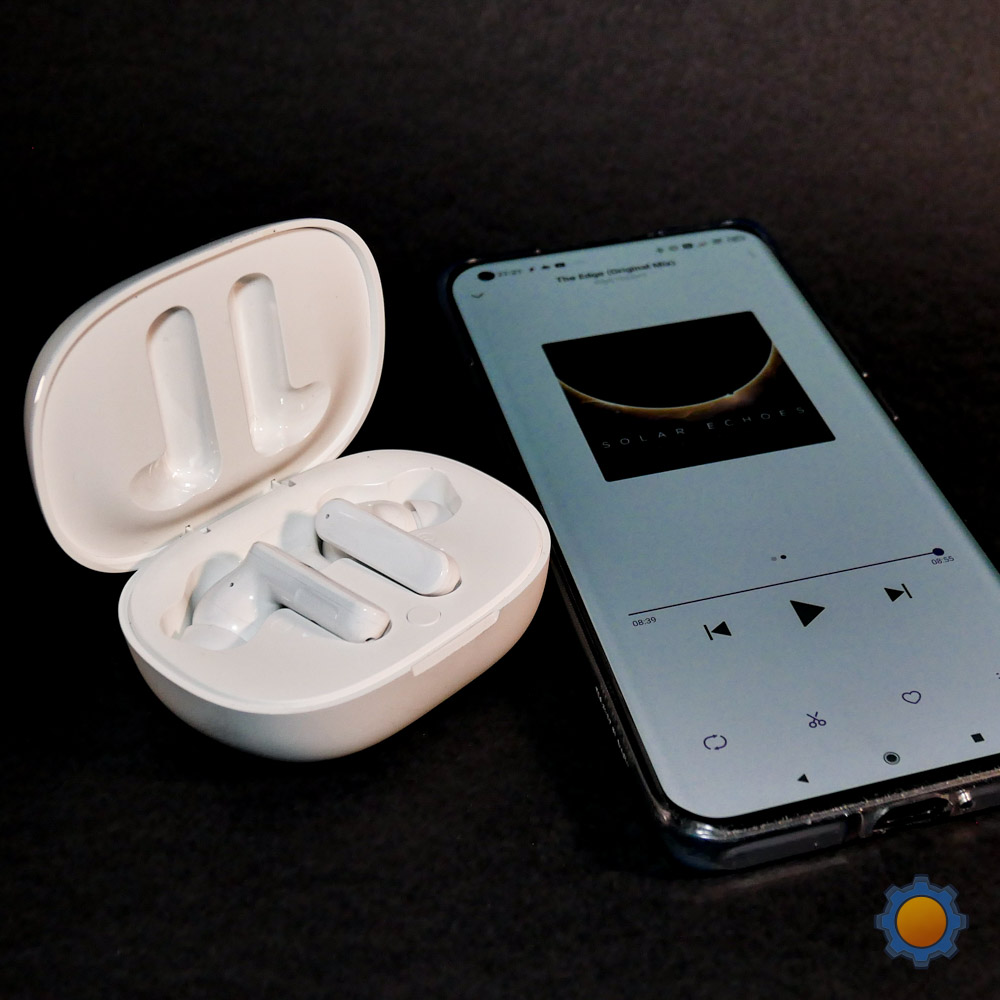 Despite being lightweight, Coumi Freedom Dots produce deeper sound that I would expect. They are louder than what I would ever need and thanks to the decent ACN, I can enjoy a bit of bass even with less than stellar fit.
The sound profile is tuned to give you a better bass boost, so you probably end up tweaking your EQ to get cleaner higher frequencies for more acoustic arrangements. For upbeat tunes with a bit of oomph Coumi Freedom Dots are just great. Overall, the sound is what you would expect from the $50 earphones.
Getting active
I'm a cycling freak. When not out and about on the road bike, I do other stuff, but for the earbuds to matter, they have to perform well while on the bike. With 6h run time, I had high hopes as my fav cycling set are Haylou GT1 (review) due to its compact size and low wind resistance but only 2h battery life.
Coumi Freedom Dots sit well inside my ear and I had no fears of them coming out. It's nice to be able to adjust the fit of the earbud on the go without accidentally pausing the music.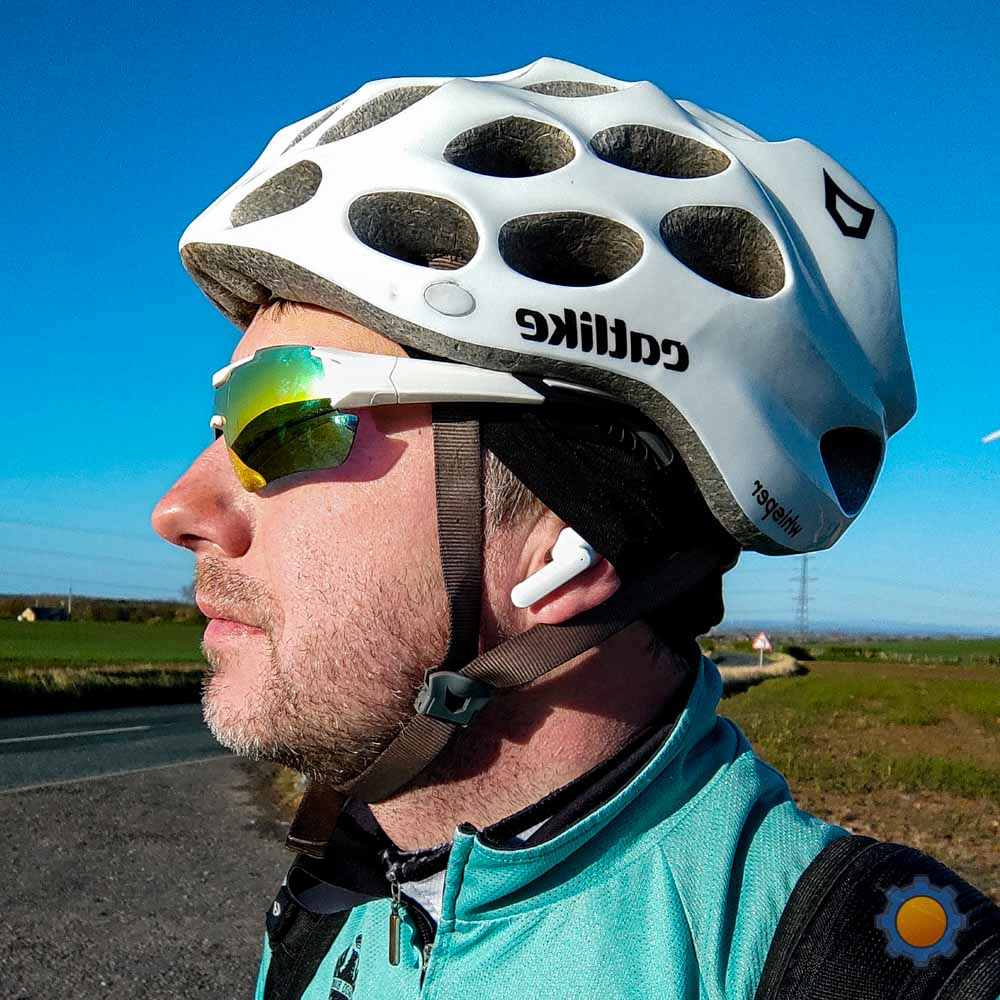 Cycle
Despite great battery life, Coumi Freedom Dots won't replace my Haylou GT1 (review) for cycling. I love how easy it is to operate these with gloves on, and rain won't cause accidental touches like on my PXC550 (review), but the shape of the earbud and a poor seal in my case causes a lot of wind resistance noise. Casual cyclists may still enjoy it, but with my average pace of a scared ostrich on smooth tarmac, wind resistance cases too much noise. Just remember to turn the ANC off, as it makes it worse.
Run
The experience is more passable while jogging. My speeds hardly exceed the pace of a turtle on a warm Sunday evening, so wind resistance isn't an issue. Even problematic fit isn't much of an issue as the earbuds stayed in place throughout the run. Controls are more accessible than on touch-enabled models, who would have thought that bobbing like a madman impairs the ability to land your fingertips on a control area as big as a wallnut.
Final Thoughts
Cycling performance is a deal-breaker for me. I can live with pretty much everything else. Despite my initial dislike for the design, I got to appreciate the comfort of the squeeze controls more than I would expect. I'd like to see more of that in the future. Coumi Freedom Dots can grab your attention too, so if you are on the market for new earbuds, you know what I think – time to make your call. You can grab these on AmazonUS and Coumi website. Got thoughts or questions? Feel free to leave it in this Reddit thread.
🆓💵 – See the transparency note for details.